Battery Dance Festival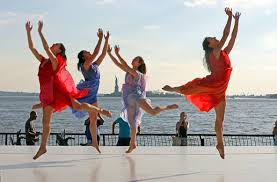 Hang on for a minute...we're trying to find some more stories you might like.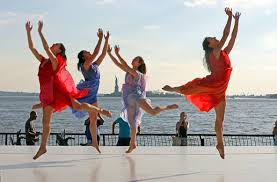 Since 1982, the Battery Dance Festival has been connecting with the world through dance. This event is the longest running free public dance festival in New York City. Located in Downtown Manhattan, this celebration of dance has drawn an audience of over 12,000 people every summer. The festival consists of all different kinds of dance styles, international
performers and dance companies. From August 13-18, 2017, from 7pm to 9pm this dazzling performance took place in the beautiful outdoors of Robert F. Wagner Jr. Park in Battery Park City with a backdrop of the New York Harbor, and the closing event on August 19, 2017, from 6pm to 8pm at the Schimmel Center at Pace University.
The summer's dance companies include: Akerman/Jansen, Amy Marshall Dance Company, Ariel Rivka Dance, Ballet Inc., Battery Dance Company, Buglisi Dance Theatre, Fadi J. Khoury Dance, Janis Brenner & Dancers, Mari Meade Dance Collective (MMDC), Martha Graham School, Maxine Steinman & Dancer, Nadine Bommer Dance Company, Peridance Contemporary Dance Company, SLK Ballet, SYnC Dance Company, Tina Croll + Company, The Movement Playground, Trainor Dance, Trezon Dancy, Wilder Project, and Behri Drums + Dance Ensemble with guest artist Danuka Ariyawansa. International companies include: Bollylicious (Belgium), Cia. ElíasAquirre (Spain), Compañía de Danza Contemporánea de República Dominicana
(Dominican Republic), and Mophato Dance Theatre (Botswana).
On August 15, 2017, Battery Dance Festival had their 9th edition of Indo-American Arts Council's Erasing Borders Festival of Indian Dance (IAAC). This Erasing Borders Festival presents worldwide dancers that practice or are inspired by dance from India. Artists in the IAAC Erasing Borders Festival include: Rajika Puri, Viraja and Shyamjith Kiran (Chennai, India), Sruthi Mohan, Dimple Saikia (Guwahati, India), Aakansha Maheshwari and Malini Taneja, Kalamandir Dance, and Kalanidhi Dance.
As one of America's leading cultural ambassadors, Battery Dance Festival strives to make dance available to everyone and are inclusive to all dance styles. From August 14-18, 2017, Battery Dance offered a workshop that let anyone interested in dance to learn the many styles performed at the festival. Dance Companies from the Dominican Republic, Spain, Belgium, Botswana, and the USA taught at this workshop. The week long master classes taught contemporary, Indian, African, and improvisational dance. The teachers encouraged creativity and connection so one can learn and grow as an artist. Hope to see you there next summer!