Festival of Light in Jerusalem's Old City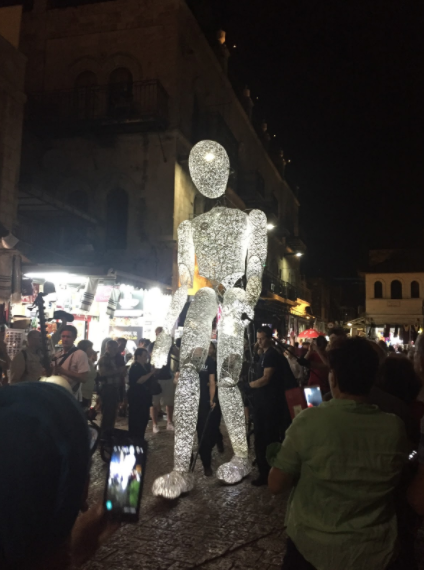 Hang on for a minute...we're trying to find some more stories you might like.
This summer, the Jerusalem Development Authority organized the 9th Annual Festival of Light in Jerusalem. A special two-week event, visitors had the opportunity to walk through the ancient streets of the Old City while experiencing new innovations in technology and art through incredible light presentations created by artists around the world.
I entered the Old City at around 8 PM through the Mamilla Mall and stood outside the Jaffa Gate, eagerly awaiting the projected video on the towering outside walls of the Old City. The film depicted the more than 2000-year history of Jerusalem in under 15 minutes. After watching the film, I walked through the illuminated streets of the Old City. The Cardo in the Jewish Quarter featured "Spinning Tops," a creation by Israeli artist Amir Zobel. In this exhibit, lights arranged in the shape of spinning tops turned on and off in a certain pattern, creating the illusion that the lights were spinning. On the pathway towards the Jewish Quarter, Dundu, a 10-foot tall puppet of lights created by a collaboration of German artists, walked alongside people. Another highlight of the even was a giant, 32-foot wide moon created by two Chinese artists. The most inspiring attraction at the Festival of Light was Solaris, the light show projected on the walls of the Churva Synagogue. Visual Support, the Polish multimedia art company that created the show, intended to have the light serve as the "narrator, director and actor" of the presentation. The Festival of Light in the Old City was an incredible experience, where Jerusalem truly represented what Israel is today–a juxtaposition of rich history and technological advances.