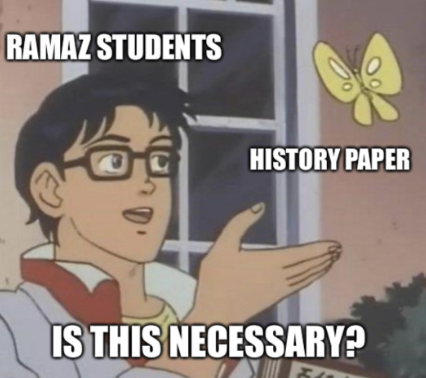 It's that time of year again when the year-long history paper begins. The paper consists of months of research done by students, all to be compiled into one long combination of arguments to prove a thesis. Ramaz is one of the few schools with a history paper, or at least one of such great magnitude. This leads students to wonder: Are history papers necessary? What are the pros and cons of the paper? The Rampage interviewed several history teachers and students about their opinions to answer these questions.
           Dr. Jucovy, History Department Chair, commented on the fact that Ramaz is one of the few schools in the country that still require such a paper, saying, "I am very proud of the fact that we do." He believes that "students should be taught to write" and that the history paper helps accomplish this goal. According to Dr. Jucovy, both former students and college professors say that "compared to almost any other group of students in college, Ramaz students are the best prepared when it comes to writing and research for college courses." The paper has gone through many changes over the past years, but at the moment, Dr. Jucovy says that he is "relatively satisfied that the scaffolding of the developmental process is pretty good." However, he also still has some questions about how the History Department could make it more effective. For example, from each year of high school to the next, the history paper is supposed to build upon itself and steadily increase in difficulty, but Dr. Jucovy is worried that the gap in difficulty between the 9th and 10th grade papers may be too much, so there may be some changes made in the near future.
           Mr. Deutsch, who teaches  9th-, 10th-, and 12th-grade history, believes that the history paper teaches students skills that also help them in other aspects of life, especially in college. Beginning in 9th grade, different skills are taught each year, and eventually, over the years of high school, according to Mr. Deutsch, "the notion is that by the time you leave Ramaz, you will have developed all the skills you need to succeed in a variety of things, not just history class." The 9th– and 10th-grade papers serve to introduce skills like argument building and data collecting which will ultimately all be used for the most difficult research paper in 11th grade.
            Similar to Dr. Jucovy, 11th– and 12th-grade history teacher Dr. Bernstein connects the importance of the history paper with students' future endeavors. Elaborating on the direct effects of the history paper, he explains, "Say one day you have to draft a memo or report at your job, the skills that the history paper provides you such as critical reading skills as well as the ability to assess arguments will come into play." As a former college professor, Dr. Bernstein strongly believes that the history paper, especially the 11th-grade paper, gives students the skills and experience they need for college assignments. "Part of success is having an expertise," says Dr. Bernstein. "The history paper begins to develop you to become a specialist." Having the ability to gain knowledge in specific areas of topics is important in the future careers of students. 
            History teachers may believe that the history paper is important, but what do students think of it? Akiva Shlomovich '21 agrees with history teachers, saying, "The history paper has strong benefits such as learning the ability to do proper research as well as how to formulate a strong thesis, and all of these things help us for college." Arielle Levy '21 agrees, saying, "I learn so much from the research and writing of the paper. I believe it is a vital skill to acquire (writing papers, especially factually based ones) for college and life. Levi Lesches '21 proposes a counterargument: "The skill of contemplating a thesis is already done with the four English essays we have to write each year, and that's where we learn the reading and writing skills we need." Dr. Jucovy responds, "English papers have different structures than history papers. History papers include research and the structure of it is different than that of an English paper." 
Although many students believe that the workload and paper requirements should be lessened, Dr. Jucovy disagrees, saying that the length of the assignment and its current structure is a strong contributor to its success. The structure of the history paper has gone through many changes over the past several years so that the current structure does help students gain the skills Dr. Jucovy believes are so important. Almost all students agree that the history paper is a large stressor for them, especially 11th graders who have the stress of standardized tests along with their regular schoolwork. All three teachers sympathize with this, but they believe that in the long run, increasing the paper's complexity over three years helps students. 
            Ultimately, students will always complain about their large workloads. However, it is important to realize, as most students do, that these types of assignments are meant to be helpful. This does not necessarily mean that every aspect of the history paper is perfect, but the teachers realize this, are continuously trying to improve the process, and are always willing to help students who are struggling. All three teachers agree that with their guidance and motivation, every student can be successful in this process.