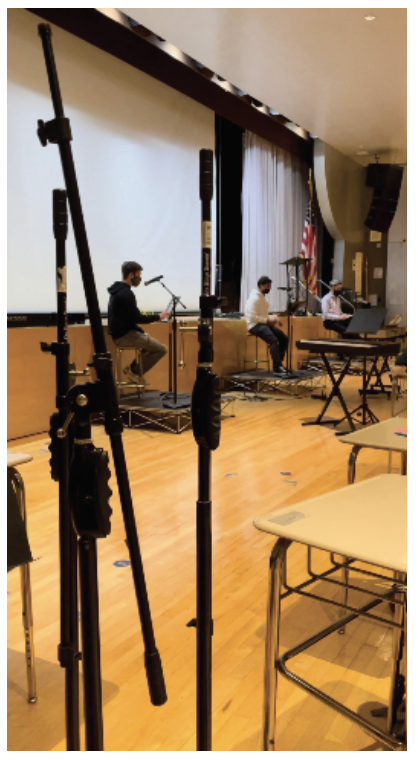 Every year the Ramaz Junior grade performs their fugues on Fugue Night, this year was different. We had students performing their fugues in the auditorium during the test and lunch period with a livestream for parents to tune in. The fugue topics ranged from the coronavirus, to meals, and TikTok dancers. 
Fugues are not like ordinary songs; they are based on subjects and counter-subjects which are developed and altered but maintain the same ideas. There are lyrical fugues where students develop a subject such as "Lil' Henny Spittin" and the counter subject "Pulling up in the scooter." Another fugue had the subject "I want to go downtown to see New York" and it used alterations in the tempo and the sentence structure to create a piece that was rhythmic and musical. 
All of the fugues had several voices, two were students and Mr. Henkin was the third, with one exception of a trio of students. 
Of all of the fugues, the most impressive ones were the melodic fugues. Students who composed melodic fugues first had to create a subject (motif) and then a countersubject using musical notation rather than words. One melodic fugue was played on the piano, and the other one was played on electric and acoustic guitars. Each fugue took about 2 minutes to perform, and with 18 total fugues the assembly ran into lunch, so the 11th grade got to enjoy a free 5th period as well. 
Overall Fugue Day was a great time for the 11th grade to relax and enjoy the product of their quarter semester of work in music class. 
These were the fugues:
New York, New York by Jordan Mittler and Caleb Rosenfeld
Corona Fugue by Cy Aminzadeh and Emmet Ades
Getting Ready by Jared Harnick and Jake Rubin
Cereal Killers by Corey Title and Eric Kalimi
Time To Munch by Jonah Hornblass, Julius Rubinsten, and Norma Tawil
601 Fugue by Nicole Hirschkorn and Ben Rosen
Rev in D Major by Zev Woldenberg and Ron Alweiss
Bed Making Blues by Arlette Gindi and Ozzie Kremer
TikTok Dancers by Jonathan Zahavi and Ethan Davidovitch
Poker Fugue by Joe Kaplan and Raphael Silver
Buzzer Beater by Ziv Bolton and Michael Lindenbaum
Lil Henny Spittin by Morris Dabah and Alex Berman
Rex and Joro Clock by Jack Cohen and Jordan Rechtschshaffen
Schoolwork by Sam Koffler and Emily Rosenfeld
Dessert Fugue by Ben Cole and Ben Yazdi
Candy Andy by Benji Goldstein and Noam Morali
What's in the Crock? By Jeremy Miller and Yona Weinstock
Lunch by Michael Gersten and Maurice Maschiach