"Dress to Impress" – But Do I Have To?
At Ramaz, one of the core purposes of the dress code, as stated in Preludes, is to create a professional school environment. In the school's view, the dress code should reflect that of any other businesslike environment. Students are told to "dress up" by wearing buttons-down shirts, crew-neck sweaters, colorful ties, and long skirts, because in the professional world, that's just what people do. This article seeks to assess whether a dress code does, in fact, create a more professional environment in the context of workplaces, and if so, how this translates in Ramaz's rules.
Throughout the United States today, there has been a trend towards business casual attire instead of the formal attire that was previously the norm at workplaces. According to the results of surveys by OfficeTeam over the last two years, half of the managers said that their employees dress less formally than they did five years ago. However, this isn't necessarily perceived positively by all managers: 80% of managers surveyed said that an employee's dress affects his or her chances of being promoted, and 47% of managers said their employees' clothing was overly casual. At work, the chief motivation for employees to conform to dress standards is the fact that what an employee wears directly affects how one is perceived by his or her boss.
Despite the misgivings of some managers, business-casual attire is becoming more and more prevalent as time goes on. In Silicon Valley, for instance, most businesses encourage their employees to "dress down." Even prominent corporations like J.P. Morgan have abandoned their formal dress-codes: employees at the bank are no longer required to wear suits. Jonathan Beck, a Ramaz parent and Managing Director at JP Morgan Chase, said "While many companies have moved to business casual, there certainly still is a place where there's a need to present a more formal attire, such as meeting with clients. However, generally, the ability to dress casually is something that is definitely appreciated by the majority of the staff at our bank."
Many companies have adopted business-casual dress codes in order to make hiring easier. Companies competing to hire the best workers will tout their business-casual dress code in order to incentivize potential employees to join their staffs. According to another OfficeTeam study, 56% of employees prefer more lenient dress codes. Additionally, some managers believe that casual dress is a benefit because it fosters employees' creativity. Today, many companies are focusing more on the results of their employees work rather than the process, a fact that directly correlates with a trend towards more relaxed dress codes.
Even the US Congress is moving in the direction of a more relaxed dress code.  On July 14, 2017, congresswomen decided to protest the House of Representatives' rule that women cannot wear sleeveless shirts or dresses in Congress by wearing sleeveless shirts to the Capitol. Shortly after the "Sleeveless Friday" demonstration, Representative Jackie Speier tweeted that "women have the right to bare arms!" The demonstration was done in response to a female reporter not being granted entry into the Speaker's lobby because she was wearing a sleeveless dress. The "Sleeveless Friday" demonstration is in line with the movement throughout the country towards a more lenient dress code.
"
Dress code should align with company culture."
— Marisa Bernstein, Associate Vice President of Human Resources at an asset management firm in Manhattan
According to several professionals and Human Resources representatives, the reason for instituting a strict dress code is to create an appropriate work environment that reflects well on your company. Marisa Bernstein, the Associate Vice President of Human Resources at an asset management firm in Manhattan, asserts that "dress code should align with company culture." Her firm follows a business professional dress code where employees must have "neat, clean attire." The purpose of dress code is to "project an image of the firm," said Ms. Bernstein. "[My firm] is conservative and trustworthy, [so] employees always look neat and classic." Shoshana S., the Vice President of Recruiting at an alternative investment management company, agrees that "the goal of dress codes is to ensure that clients feel that our company operates professionally… what you wear projects an image and tends to generally promote a degree of professionalism in the office." A senior professional at a large, metropolitan area healthcare organization stated that "dress codes reflect on the professionalism of the organization and have a direct impact on how patients and visitors perceive the quality and safety of the care we provide."
Younger employees often have a harder time understanding what clothing is appropriate for an office environment. "For women, especially women recently graduated, the current style is very short skirts and dresses. Sometimes, it's not appropriate and comments need to be made," says Shoshana S. "There is a great divide between today's tech/entrepreneurial culture and the culture of the investment banks and it is hard for young people who do not have guidance." Indeed, millenials are the main proponents of the trend towards business casual.
This brings us to an important question: How should dress codes in the work world translate to Ramaz's dress code? Should Ramaz endorse a brand of old-school professionalism that restricts students from wearing casual attire? According to Ms. Krupka, "students should learn to dress with dignity so that they understand that an important feature of life is about the way you think about dignity, self, dress, [and] presentation." In promoting a formal dress-code, Ramaz seeks to teach its students how to dress with dignity before they graduate and enter the professional world. In an age where business-casual is becoming the norm, however, this goal may not necessarily teach students how to dress for the workplaces they are bound to enter.  Ultimately, it seems that the Ramaz dress code is based on the educational goal of teaching students to dress appropriately later in life, wherever students end up after graduation.
About the Writer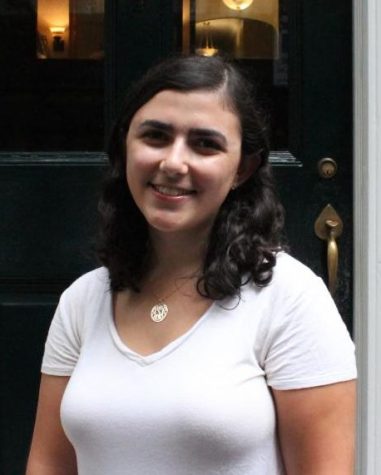 Josephine Schizer '20, Co-Editor-in-Chief
Josephine Schizer has been writing for the Rampage since her freshman year and is excited to be serving as Co-Editor-in-Chief. Outside of Rampage, Josephine...