Not so Fast to Fast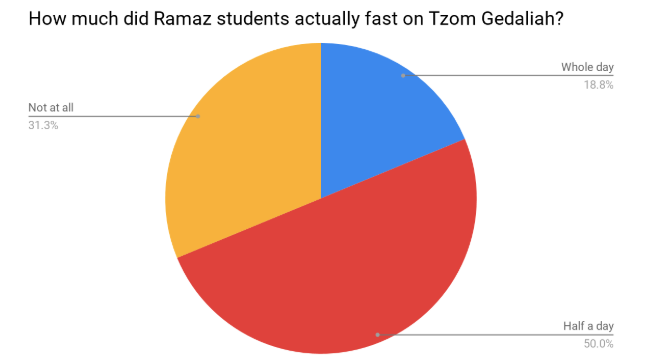 With Ramaz's observance of Tzom Gedaliah, the first of four minor fast-days in the Jewish calendar, students were left wondering how many of their peers actually fasted and how many just suffered through a few hours of hunger only to take advantage of the early dismissal by grabbing food the second the last bell rang.
Among the 48 random students questioned, 20% fasted the entire day, 50% fasted half a day, and about 30% did not fast at all. Florence Chera '20 was surprised to hear that such a large percentage of students (20%) observed the full minor fast day. She explained that if Ramaz wants more students to fast, it should cancel school entirely on minor fast days. "It is hard to concentrate on classes and on homework while fasting, so if Ramaz values the importance of fasting on minor fasts, perhaps there should be no school on those days," said Florence. Caroline Schwartz '22 echoed these sentiments. Caroline stated that she only fasts half a day, as she finds it hard to concentrate on work while fasting.  
Rebecca Douer '19 was not surprised that 50% of students actually fasted half the day.  "I personally don't fast," said Rebecca, "but I do know students who try and fast at least until school is over."
Many students felt a lack of spirituality on Tzom Gedalia. One anonymous student said,  "It was my first time fasting on a minor fast day, as no one in my family fasts on minor fast day. My tefillah is elevated on Yom Kippur when I fast, so I thought maybe I would feel that way fasting on Tzom Gedalia, too. I didn't actually feel much more spiritual and I'm not sure whether I'll fast on the minor fast days going forward."
Max Jankelovits '21 believes that minor fast days are important but understands why they might feel like too much for some students: his friends mostly do not fast and are often surprised to hear that he does. Alex Zemmol '21 says minor fast days are an important way for students to come together and bond. He tries to fast the whole day, but if this is not possible, he at least fasts half a day. Alex feels that Ramaz should hold programs on minor fast days to remind students what we are commemorating on these days.
Alex was not the only student who commented on the school's need to explain the origins of minor-fast days, either within the curriculum or through special programing. Many students mentioned that they do not even know why these fast days are important. Multiple students seemed unsure of why we fast on Tzom Gedalia, which was created to lament the assassination of Gedaliah, the Babylonian-appointed official who led the Jewish population remaining in Judah following the destruction of the First Temple.
As the Jewish year begins, Ramaz should be mindful of it students' attitudes towards fasting on minor fast days like Tzom Gedalia. After all, if only approximately 20% of Ramaz students observe the minor fast days, one should wonder how many Ramaz graduates will continue to observe them when they enter a secular college and the world at large.