Ari Fuld Memorial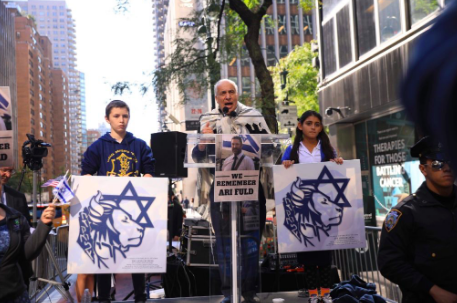 Ari Fuld, a New York-born pro-Israel activist and defender of the Israeli settlement movement, was fatally stabbed by a Palestinian teenager at a shopping mall in the Israeli-occupied West Bank on Sunday morning, September 16. A graduate of MTA high school, Fuld's death was especially devastating to the Orthodox community in New York City where Fuld was born and raised. The shortened period of mourning because of its timing around Yom Kippur did not deter Jewish communities around the world from commemorating his lifetime of devotion to Eretz Yisrael and pursuit of the Zionist dream of living in the Israeli settlements in Gush Etzion with his wife and four children.
On Wednesday, October 17, 2018, one month after Fuld's murder,  Juniors and Seniors of the Ramaz Upper School joined a rally in front of the Israeli Consulate building initiated by the Riverdale Jewish Community. The rally was attended by hundreds of students and community members from around the Metro New York area. The NYPD blockaded off a section of Second Avenue and 42nd Street for the crowds to gather. Attendees held posters with photos of Fuld along with other Israeli victims of terror.

Dani Dayan, Consul General of Israel in New York opened the ceremony with powerful words calling Fuld a hero who "paid a hero's price." The ceremony continued with multiple speeches devoted to Fuld's heroism by Rabbis, poems were read by students, and songs lead by a guitar player including "Am Yisrael Chai" and "Eisa Einie."

Rabbi Yonah Fuld, the father of Ari Fuld, addressed the crowd through previously taped audio message, "I believe that Ari reminded us of a special lesson. He was a hero all the days of his life but always with a mission and an understanding of why we are here."

"
I believe that Ari reminded us of a special lesson. He was a hero all the days of his life but always with a mission and an understanding of why we are here."
— Rabbi Yonah Fuld, father of Ari Fuld
Rabbi Steinmetz of Kehilath Jeshurun shared powerful words as well. "I want to tell you a few truths. The first truth is that Ari was murdered because he was a Jew…The second truth is that those who paid for the murder have blood on their hands…The next truth you need to know is that Ari was a hero. As Jews we don't only see ourselves as a people we see ourselves as a family. Our job as Jews is to stand by our family and take of each other. The final truth is that if we stand up for each other we will forever be able to say am Yisrael chai."

While the rally spoke to the outpouring of emotions of many individuals who felt both bereaved and angry at Fuld's unjust and untimely death, many students questioned the premise of the rally aspect of the memorial. And if in fact the gathering was a memorial and not a rally, why block off multiple lanes on Second Avenue for hours in the center of the city in peak of the day rather than gather inside KJ's sanctuary or at another large and meaningful venue.  Demonstrating the community's reaction to Fuld's death in front of the Israeli Consulate was no doubt powerful, but was irritating the equally great numbers of drivers and pedestrians too great a drawback? Defined as a summoning of strength after a decline, rallies have always been central to the core of the Ramaz experience. Students attended for the struggle for Soviet Jewry, davened outside the Iranian mission every week in protest of Iran's position on Israel and turned out on many more occasions to were called with a particular goal or plea.

Throughout the Fuld memorial, students verbalized their confusion as to whether the ceremony was meant as a memorial or rally. Daniella Feingold '20 commented on the location of the ceremony, "I believe that the ceremony would have been much more meaningful if we had been gathered inside. Much of the time I couldn't even hear what the speakers were saying."  Others felt that it was rude to block of traffic and felt uncomfortable wearing their kippot and holding signs with the Israeli flag while doing so. Feingold added that she would have liked to "continued with the rest of the group to the U.N. to protest their silence".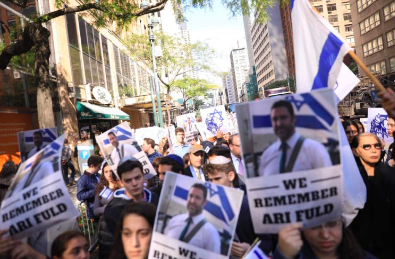 David Adler '19 stated that "Many of the speeches related Ari's death to Israeli politics. If it was really a memorial, they shouldn't have mentioned politics, rather just spoken about what a great human being he was."  
Josephine Schizer '20 commented on her confusion regarding the event, "I assumed that we would be going somewhere, sitting, and listening to speeches about Ari Fuld to remember him. When we got there, I was really confused, because it felt like a protest. I wish that the school had given us more detail beforehand and given us an opportunity to discuss the event afterward." Elizabeth Aufzien '19 agreed with Schizer, stating that "the intentions behind the rally were good, but the school didn't really tell the students what the event would entail, which caused students to misbehave". Schizer continued about the behavior of her peers, "I thought the fact that the majority of students were talking or on their phones was really disrespectful, but given the environment, I don't really blame them – it was really hard to pay attention in a cramped and loud space like that." It can also be noted that many students were taking advantage of the good lighting outdoors to take photos and selfies.

Emily Abraham '19, who plans to enlist in the IDF, spoke at the rally, explained afterwards that "I didn't know Ari Fuld, but when I heard about his death, I guess I just connected with him because I feel the same love for Israel and I have the same drive to want to protect and defend Israel. Like him, I would love to make aliyah but my parents won't allow it. I also admired the work he did for soldiers. I don't have family there so I can imagine the supports he showed soldiers meant a lot to them and I would love to have someone do for me half of what he did for them." She went on to share that "I have wanted to go to the army for a long  time but it somehow meant more to me after learning about him. It's hard to explain but when you see someone who did the same thing as I'm going to do, and someone so genuinely good be killed it just kind of relit the fire that drove me to first want to do it years ago. He definitely inspired me more."

Others agreed that attending the rally connected them in a deeper way to his life of living out his dreams.  Natalie Trump '20 said, "I thought the Ari Fuld memorial was very meaningful. Ari Fuld lived and died for protecting the State of Israel and it is our responsibility to learn from his bravery, strength and dedication to the land. Today when the Jewish people are facing horrible things it is important that we come together as a nation to fight for what we believe in."
About the Writer
Sophia Kremer '20, Co-Editor-in-Chief
Sophia Kremer started writing for the Rampage as a freshman covering orientation and now serves as Co-Editor-in-Chief. Sophia plans to promote the paper...