Celebration of the Harvest: Sukkot Chesed Mission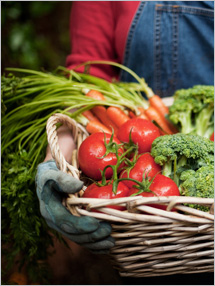 Over Chol HaMoed Sukkot, twenty-three Ramaz sophomores and seniors volunteered their day to reap vegetables in the Hazon fields.
Hazon is an organization dedicated to giving back to nature and community. Based in Falls Village, Connecticut, Hazon calls itself "the Jewish lab for sustainability." Hazon is made up of many programs, including Teva, an environmental education program for Jewish middle school students about the gifts of Earth. Another program is Adamah, a community on a that lives on ten acres of certified organic farmland.  Hazon offers a three month radical training program where Jews come together and form a farming-based community. Hazon believes in JOFFEE, Jewish Outdoor Food Farming Environmental Education. According to Ruth Messinger, who is on the Hazon Board of Directors, "Hazon creates hope in the world by building community."
Arranged by Ms. Benel, on Wednesday, September 26, a group of dedicated students took the three hour trip out to Connecticut to donate their time to Hazon. The bus to Falls Village left from Ramaz at 7:15 AM.
Hazon educators warmly welcomed newly arrived Ramaz students and invited them into the common room. There, they started the morning by hearing about Hazon's programs. Then, the students made blueberry smoothies with a bicycle-powered blender.
The students participated in cabbage and kale harvesting. If the vegetables would not have been harvested, they would have decayed and gone to waste. As they went through the farm, they learned about how mushrooms grow out of trees, how to manage a chicken coop, and Hazon's policy of giving each produce a different year to "rest" (their own version of Shmita). Students learned how to cut cabbage out of the ground and reap kale. Taylor Roslyn '21 said, "[Harvesting cabbages] was hard work. After that experience, I'm more grateful for my food, knowing everything that goes into growing it." Upon returning from Connecticut, students delivered all the produce they had harvested to the New York Common Pantry.
The educators also taught the students that even pulling a few weeds can change the view and feel of a farm. Students picked out weeds to be brought to the compost pile on the Adamah farm. Afterwords, the students made apple muffins. They learned the eleven Halachot of baking bread, diced apples, and mixed the ingredients together. The students enjoyed the delicious treats and the remaining muffins were also donated to the New York Common Pantry.
Lunch at Hazon was very different from the apple juice and panini press offered at Ramaz. The members of Hazon and the Ramaz visitors ate a hearty organic meal straight from Hazon's own facilities. "I wouldn't have expected organic food to have been so healthy, and it tasted so good," said Ella Rabbani '21. On most days, food at Hazon is eaten on china plates with metal silverware so as to reduce the amount of composting necessary. However, since September 26 was Chol HaMoed Sukkot, the students ate on compostable paper plates with cornstarch silverware. The students ate their lunch in a beautiful sukkah which overlooked a serene lake.
After the meal, the students, led by the Hazon educators, went on a one mile hike up a tough trail. Although the hike was hard, students reported that the breathtaking view of the Taconic Mountain Range made it worthwhile. At the top, right next to the cliff, was a sukkah woven out of branches, a fun twist on the classic sukkot usually found in homes. While overlooking the mountain range, the students meditated about their goals for the upcoming year and how they planned to help the environment, singing about the beauty of Earth. Ilan Schochet '21 remarked, "The hike was the highlight of my trip: the view was gorgeous, and the top of the mountain was peaceful."
Ms. Benel, in her Zmail summary of the trip, wrote, "[The students] fulfilled an important mitzvah!" After the trip, students felt inspired to make a difference in their planet. It is no surprise, therefore, that this year, the membership of the Environmental Club at Ramaz rose. It's not proven if this was a result of the trip to Hazon, but it is definitely a possibility. Avigail DuPont '21, co-president of the Ramaz Environmental Club, said, "We may not realize it in the moment because it doesn't directly affect our day to day lives, but any step, even throwing your water bottle in the correct bin, is a step towards saving our environment. Knowing where to start is difficult, but with the help of the Environmental Club, you too can make a difference."