Sanders Music Symposium
On November 29, 2018, Natalie Kahn '19, Sammy Henkin '20, and I had the incredible opportunity to participate in a Masterclass program, sponsored by The Martin and Susan Sanders Family Foundation for Classical Music Enrichment at Ramaz. Three professional musicians, each one paired with the musical abilities of each of the students involved, were invited to work with the students individually. I worked with cellist Yves Dharamraj, Kahn with tenor Robert White, and Henkin with pianist Philip Edward Fisher. All the "master-teachers" had attended Juilliard, either as a teacher, student, or both, and have dedicated lives as professional musicians in their respective fields of choice. In an interview, Oded Lev-Ari, Upper School Band and Chamber Music Ensemble Director, who coordinated the program with master musician Robert White, explained that he selected each of the student musicians "based on my personal knowledge of what you do and how you do it." Mr. Lev-Ari explained, "I wanted a variety of instruments to make the program interesting." But most importantly, he said, "I wanted the three of you to experience what it was like to work with a master. You all have excellent teachers, but I wanted you to experience a different flavor of instruction." Each of the three students involved truly had an individual experience with their respective masters, learning new techniques from a new perspective about the pieces that they prepared.
For my masterclass, I performed Rondo from Jean-Baptise Bréval's Cello Concerto No. 2 in D Major. I very much enjoyed this piece and had been working on it with my teacher, Reenat Pinchas, so I felt it was an appropriate selection to play for the masterclass. After performing the piece, Mr. Dharamraj explained to me that while my physical technique and performance were good and I played all the notes correctly, the main thing to work on was "telling the story" of the piece. He proceeded to ask me to play each section of the piece again and think about "how that section makes me feel." Whether this was "skipping," "sorrow" or "excitement," the terms I used to describe my emotions during the distinct sections of the Rondo helped me tell the story of the piece and changed the way that I now play the piece. Mr. Dharamraj showed me a useful technique to portray the feeling of "skipping" in the Rondo section of the piece. He explained that rather than moving the bow lazily back and forth across the strings, actually "skipping" with the bow by lifting it up and down ever-so-slightly as I played the music would have a massive effect on the sound quality and "telling the story" of the piece. After following his advice, I realized how true his statements were. As I continue my cello-playing career, I will always remember Dharamraj's advice to think about the story that the composer is trying to tell through his music and internalize it in order to elevate the quality of my music.
Natalie Kahn worked with tenor Robert White on her piece Deh Vieni, Non Tardar from W.A. Mozart's Le Nozze Di Figaro. Given that her instrument was her voice, her instruction focused mostly on the way that she moved different parts of body as she sung to minimize tension and maximize vocal output. Natalie chose to sing this piece at the masterclass both because she had been working on the piece with her teacher at the time and because "an aria, rather than an art song, has more context and leaves more room for interpretation." Further, explained Kahn, "Susanna's aria is an aria that's age appropriate. A lot of young sopranos sing it." White guided Kahn to elevate the quality of her voice by asking her to sing sections of the piece while moving her arms in all directions and while pressing her fingers on her larynx. They worked on "supporting, but not pushing": rather than pushing on your abs to try and create support (which is what many singers erroneously do), using your entire body to create support for you voice whenever necessary. However, Kahn appreciated that her masterclass with White was not only focused on technique but also focused on interpretation. "What made Mr. White so great was that he achieved a good balance between technique and interpretation," said Kahn. "A lot of times, masterclass teachers get very caught up in technique, which is important, but not as interesting for the singer or the audience. The singer (hopefully) gets technique during lessons and wants the masterclass [to be centered around] more interpretation-based feedback."
Finally, Sammy Henkin worked with virtuoso pianist Philip Edward Fisher on his piece, Prelude in F# Minor from J.S. Bach's Das Well Tempered Clavier, Book II. Henkin has been playing the piano from an early age, but (just like me) has never participated in a masterclass program before and this new experience was very exciting for him. Fisher showed Henkin how to sit on the piano stool in a way to best play the instrument with ease and produce the greatest quality of sound. The main idea that Fisher worked on with Henkin, however, was intentionality. Henkin learned that "playing the notes with the correct intonation isn't the only factor when presenting or being on stage – it is the expression of inner feeling, and the transfer of emotion from me (the player) to the piano to the audience." Fisher asked Henkin to replay different sections of the piece over and over again, each time thinking about the emotions that he feels when playing the piece. Rather than just pressing down on the piano keys, Fisher instructed Henkin to "really feel the music" that he is playing. There was a noticeable difference in the quality of sound before and after the instruction that demonstrated how useful and applicable this type of program really is. "I enjoyed the masterclass for two reasons," said Henkin. "First, because I benefited musically from it, and second, on a broader scale, it was a humbling experience. This masterclass exposed me to direct criticism and critique, and internalizing it will not only further develop my music but also be applicable to life circumstances."
The students, masters, audience members, teachers, and administration all agreed that this program was a tremendous success. Lev-Ari noted, "I think it was successful because you all got something out of it. It illuminated something that you weren't aware of." Additionally, the audience was riveted by the individuality of each of the performances and the advice that the masters gave to each of the students. "When designing the program, I wanted the audience to experience what it means to be a musician – to be able understand the process. People like to think of musicians as 'miracle-workers' – that there is something effortlessly bestowed onto them. This, of course, is false, and this program gave the audience a chance to see the hard work that actually goes into studying an instrument and making music."
Personally, many audience members approached me after the performances to thank me for giving them a glimpse into the world of an amateur classical musician. They all loved the intimacy of the instruction and the satisfaction of being able to see the "before" and the "after"; they were able to witness the culmination of hard work and further development of the piece after master-instruction. Lev-Ari highlighted the power of the masterclass on him: "When I grew up in Israel, there was a series of masterclasses on TV held at a music center in Mishkenot Sha'ananim. Watching these classes as a kid left such a strong impression on me that I still remember to this day. Even more than watching a masterclass, being in a masterclass, should have an even greater impact on you."
Leave a Comment
More from this Journalist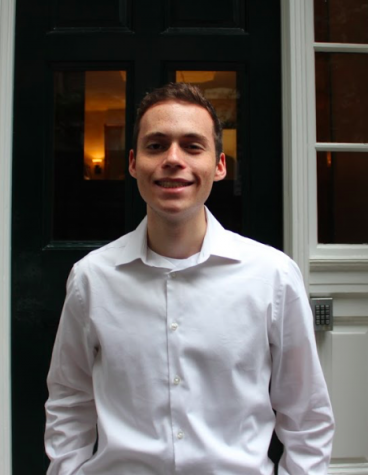 Zach Buller '20, Co-Editor-in-Chief
Zach Buller has been an active member of The Rampage staff since the first week of his freshman year, and now serves as Co-Editor-in-Chief. In his four...