Remembering The Sacrifices of So Many This Yom HaZikaron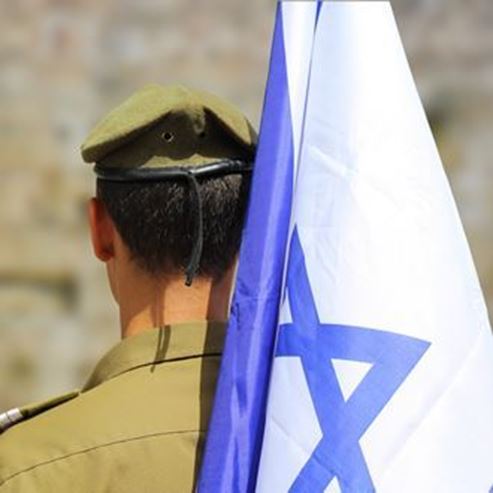 Every day, the Ramaz community prays for the State of Israel and its soldiers. Some students stand in shul and listen to the names of fallen Israeli soldiers every week; others have an alarm on their phone every time a missile is shot into Israel. Ramaz students are intrinsically connected with Israel, yet, halfway across the world, they are so far apart.
Sitting in Ramaz, can students appreciate what it means to hug their child just before they enter the Gaza strip, not knowing if they will see their son or daughter again? Can students appreciate what it means to be told that their loved one died in a war? Can students appreciate what it means to hide in a bomb shelter on a regular basis? Can students appreciate what it means to sacrifice everything for their homeland?
On Yom HaZikaron, May 8, during a tekes program, organized by Ms. Barack and the Hebrew Department, students tried their best to learn and appreciate what it really means for them to have the State of Israel. Daniella Norman '21 best summarized the struggle of an American Jew on Yom HaZikaron: "It's always sad to hear about those who fell in battle, but it's always hard to connect since we're so far from Israel."
To set the tone of the program, they played the minute-long siren sounded in Israel on Yom HaZikaron. Students stood in silence and concentrated on what it means to zachor, remember. Afterwards, Kel Maleh Rachamim was sung in memory of the fallen soldiers and victims of terror attacks. Taylor Roslyn '21 said, "I think this was a good way to meditate and appreciate the program, especially since we were all rushing out of classes and totally distracted from the day's craziness."
The program focused on the Israeli Druze community. The Druze religion is founded on seven precepts: being truthful, protecting others of the same faith, renouncing all false beliefs, rejecting the devil and all other evils, confessing that God is One, accepting God's actions without protest, and doing exactly God's will in both public and private. There are around a hundred and fifty thousand Druze living in Israel and 419 Druze soldier were killed fighting for the State of Israel. Ms. Maccabee explained the Hebrew Department's reasoning for centering the program around the Druze community: "As a result of stating the new national law in Israel, the Druze community feels discriminated. A very, very high percentage of that community serves in Tzahal and many of them in Elite units.This is a community that is a 100 percent loyal to the state of Israel."
Yosef Hamol, a member of the Israeli Ministry of Defense Mission to the US, shared his story. Mr. Hamol was born in Beit Jann in a Druze community. In 2011, after high school, he joined the Intelligence Unit of the IDF for three and a half years. Mr. Hamol told the students about his friend who was killed in the army. He spoke about his friend with love and appreciation, the same way a Jewish Israeli would talk about their friend who sacrificed their life for Israel. To conclude, Mr. Hamol spoke about the mentality of the Druze community. "We all share the same feelings on Yom HaZikaron. I have to say that I am very proud to stand up on this very special day of Yom HaZikaron…. We truly believe that we must protect our homeland Israel no matter what," he said.
"
We all share the same feelings on Yom HaZikaron. I have to say that I am very proud to stand up on this very special day of Yom HaZikaron…. We truly believe that we must protect our homeland Israel no matter what"
— Yosef Hamol, member of the IDF
Ramaz students told the story of Lieutenant Colonel M, a Druze soldier part of a special unit of the IDF. Colonel M's work was so secretive that even after he was killed, his name and unit cannot be released for security reasons. Colonel M died saving lives and he is an Israeli hero. His wife, whose name also cannot be released, said, "We both love our home." Although the public cannot know Colonel M's name, the entire Ramaz Upper School honored his memory on Yom HaZikaron.
Overall, the Ramaz student body learned about the Druze community and can now understand how much they sacrifice for Israel, their home as well. Zach Buller '20 said, "I thought that [learning about the Druze community] was a very original idea, which made the entire program more intriguing for the students. I think that since students at Ramaz attend many Yom HaZikaron programs each year, a lot of the stories told are generally the same. And although important, it is interesting to learn about a different type of story." Michal Seinfeld '21 agreed saying, "Ms. Barack told us we were the only community to talk about the Druze. I am proud that we did because their story needs to be heard by more people." Ms. Senders was pleasantly surprised with the spotlight on the Druze Israelis. She said, "I'm used to a more traditional [Yom HaZikaron] program that talks about Israeli soldiers in general. I missed that a little, but I think that it was a nice choice to highlight another population of Israelis affected by Yom HaZikaron."
The program was bookended with songs and a poem, describing the pains of losing a loved one. These forms of literature left the room in tears. Students were wiping their eyes and hugging each other for support. Students were especially touched by the line in a poem written by a grieving mother, ""And when they ask you…. how many children do you have? What should I answer? Two or three?" The reality of this line left everyone in shock as it occurred to students that the death of a child changes day-to-day life for the family forever. While there are ways of coping with pain and loss, it is always there.
Josephine Schizer '20 said, "I think singing is a really helpful medium to connect to Yom HaZikaron. The songs at this year's assembly were really moving." The songs and poetry reminded Ms. Benus of her Yom HaZikaron experience in Israel. She said, "My favorite part was the poetry and songs because it reminded me of commemorating Yom HaZikaron in Israel and of my experience of Yom HaZikaron growing up."
As with any tekes, the Yom HaZikaron program ended with HaTikvah, looking forward and searching for hope even in times of sadness. Seinfeld said, "Ending with HaTikvah is so uplifting. Even though it is heartbreaking to hear about everyone who died, this anthem is a reminder that they did not die for nothing. They bravely sacrificed their lives for the State of Israel and to keep us safe."