RAMtreat At Its Finest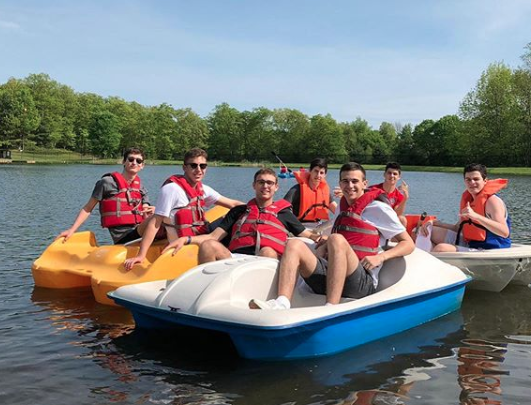 In the middle of a stressful month of studies and tests, what could be better than a two-day break? In coordination with Lag B'Omer, Ramaz students were treated to a school-organized respite at Camp Kaylie, a summer camp in Wurtsboro, NY. Over the 32 hours, students had a chance to enjoy lush greenery,  scenic views, sport fields and courts, exciting activities planned by the school's faculty and the G.O., as well as plenty of free time, all the while soaking up loads of vitamin D.
Upon arrival, students were greeted with assorted blue and white bucket hats that most sported throughout the two-days, both to shield themselves from the endless sunshine and also to flex their Ramaz pride. Students were then free to enjoy the camp's generous facilities including boating on the lake, driving the camp's fleet of go-karts, friendship bracelet beading stations, and loads of sports including beach volleyball, tennis and basketball.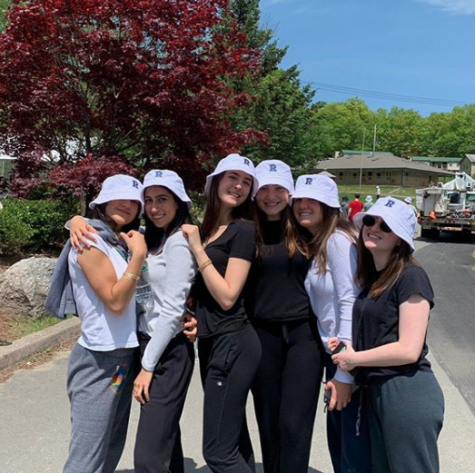 In the evening, students participated in an interactive grade-versus-grade game show, which the freshman won. Julius Rubenstein '22 said, "I thought it was really fun because we were winning." Lia Davidson '21, a sophomore, said, "Even though the sophomores lost, the game show was super interactive and entertaining." The game show was filled with tons of laughs and brought each grade together as they competed to answer questions in a variety of categories ranging from food to sports to "questions for intelligent people." There were also physical activities like Tug-of-War, a hula hoop competition, an intense game of "Simon Says", and a legendary dance competition where Sam Deutsch '20 and Sarah Kagan '21 stole the show. Following the game show, students were given free time to snuggle around the bonfire and roast marshmallows. But the fun was not yet over: later that night, the students munched on treats at the midnight barbecue. The following day, students were free to utilize the facilities again until departure at 3:00 pm.
Rabbi Slomnicki, who organized the trip along with Rabbi Dov Pianko, said, "It was the best retreat we have ever had." In comparison to last year's retreat at Camp Lavi, "Camp Kaylie was much closer, the facilities were very fresh, and everything was centralized; the lake in the middle and the various courts all grouped together created a sense of unity among the students and faculty."
The Retreat is a lot of work to plan. There are a lot of conversations with the camp, caterer, bus company- although, apparently, not enough of those conversations were had- and most importantly, students. Rabbi Dov Pianko said,  "I had many conversations with students about what they wanted to see on Retreat, and I tried to meet every request (some are not feasible). I hope that students continue to let me know ways in which they would enhance our programming."
Newly elected G.O. President Ethan Morali '20 said "There are a lot of things that go into retreat, and it required a lot of long-term from the previous G.O. and short-term preparation from the newly elected G.O. Everyone was enjoying themselves, and it was really nice to see that everything worked out."
"
"There are a lot of things that go into retreat, and it required a lot of long-term from the previous G.O. and short-term preparation from the newly elected G.O. Everyone was enjoying themselves, and it was really nice to see that everything worked out.""
— Ethan Morali, Newly Elected GO President
During the day, students were purposely given plenty of time free to roam around and explore the campus. Caroline Schwartz '22 said, "Usually, as freshman, we do not have so much freedom, so on this trip we really appreciated how much time and space we had to hang out."
One of the benefits of retreat, as always, was students and faculty being able to engage with each other outside of a classroom setting. Many began friendly sports games. "I enjoyed playing basketball with all the teachers who usually see us in a formal setting," Jack Fisher '20 said. After a tennis match with Ms. Rahimzada, Yola Ashkenazi '20 exclaimed, "I was shook by her skills! She crushed me." Additionally, in preparation for the retreat, students organized a three on three basketball tournament. "Unfortunately, the program wasn't so organized so we did not end up playing in the tournament. Instead, we spontaneously put together our own games which turned out to be a lot better," said Joey Kaplan '20.
Students who did not attend the retreat were still obligated to come to school during those two days and participate in educational activities and chesed projects. The in-school days had a very low attendance rate. Over the same two days, juniors also had the opportunity to go on a school-organized trip to London to visit a special exhibit at the Jewish Museum on the history of anti-Semitism titled  "Jews, Money, Myth." The trip accommodated twelve students along with Ms. Litwack and Dr. Jucovy as the faculty advisors, and every spot was filled.
Attendance at this years retreat was unparalleled. The school could not even accommodate every student who wanted to come but registered after the deadline. In past, the school always got to the number of at least 75% of the students, but often got it late. This year they also needed to send out numerous reminders and enlist the help of the G.O. and Class presidents, but ended up clinching the minimum earlier than ever. "The downside was that there was not a one hundred percent participation rate. There are still kids in each grade that do not see the value of coming on these retreats and that is something that needs to change," said Catlin Levine '21.
"I thought it was a great time to be with friends and really get to have a nice relaxing few days away from all of the stress we have in school," said Adam Vasserman '21. "There were so many fun activities planned, but it was also nice to just do things on our own and bond with everyone."
Upon departure, one of the four buses that was supposed to transport students back to Manhattan did not show up. Those students were left for over two hours at the camp and began their descent home as other students arrived. As an apology, or more like a bribe, Rabbi Slomnicki hosted a brunch in his office where he served ice cream to make up for lost time. Regardless, RAMtreat will still go down in the books as a great trip, and the universe cooperated- in a movie-like ending, just as soon as the buses pulled away and it was time to say goodbye, the clouds darkened and it began to rain.
About the Writer
Sophia Kremer '20, Co-Editor-in-Chief
Sophia Kremer started writing for the Rampage as a freshman covering orientation and now serves as Co-Editor-in-Chief. Sophia plans to promote the paper...