Cancer Research at Memorial Sloan Kettering
Hang on for a minute...we're trying to find some more stories you might like.
This past summer, I was privileged to intern at the Memorial Sloan Kettering Cancer Center (MSK), one of the nation's top cancer institutions, spending eight weeks working in the Rubenstein Center for Pancreatic Cancer Research in the labs of the Mortimer B. Zuckerman Research Center. This was my second summer involved in cancer research, having interned at a cancer research facility at Hadassah Medical Center in Israel last summer. My experience this year was entirely different. Last year, I worked on developing a plant-based cancer treatment in a lab, whereas at MSK, I worked with patients and their blood and tissue samples both in a lab and in a hospital.
My primary responsibilities were twofold: shadowing a research technician at the clinic, assisting with screening patients via electronic medical records to ensure eligibility for clinical trials and organizing, processing, cataloging, and maintaining blood samples and surgically-resected specimens for use in medical research. Given that MSK is dedicated both to patient care and to scientific research, many patients at the hospital for cancer treatment consent to take part in clinical trials where their blood and/or tissue is used for scientific research. Researchers in the lab in which I worked, coordinating with scientists overseas, analyze these blood samples to develop methods for early detection of pancreatic cancer. Two days a week, I worked at the clinic, learning about the sensitivity of patient data and protected health information, and how, when working with patients, a great deal of care is necessary to ensure that their privacy is respected. I became familiar with the process of "informed consent," or making sure that a patient fully understands the scope of the trial prior to signing up. 
At the lab, I was tasked with preparing the blood and tissue samples that were collected at the clinic to use for the research study. The challenging part was pipetting out the plasma and buffy coat separately while making sure not to take in any red blood cells. After multiple rounds of centrifugation, I transferred the blood samples to cryovials and banked them. I had to be more careful with the surgically-resected tissue, slowly cutting up the ampullary and pancreatic tumors and normal tissue to fit them in the 1-mm tubes. I then created new mapping files of the biobank repository for the larger study, enabling any of the researchers to find specific blood and tissue samples within the thousands stored in the freezers. 
In addition to laboratory and clinical work, I was fortunate to work with a talented group of professionals who taught me about pancreatic cancer and active research studies in the field. They allowed me to shadow them at biopsies and surgeries in addition to taking me on valuable tours of the hospital. By the end of the internship, I gained exposure to various pancreatic-resection surgery methods which confirmed my interest in pursuing a career in medicine and medical research.
My incredible experience this summer at MSK allowed me to explore science in a practical manner – not just within my academic coursework. It was gratifying to combine both the clinical and lab-based aspects of my job: after consenting patients for clinical trials, I brought their blood samples back to the lab and prepared them for researchers working assiduously to treat those patients. The whole process came full circle. Throughout my time at MSK, I came in contact with a myriad of medical professionals, all holding different positions within the institution, but each taking necessary steps to achieve the same goal: developing medical advances to improve peoples' lives.
About the Writer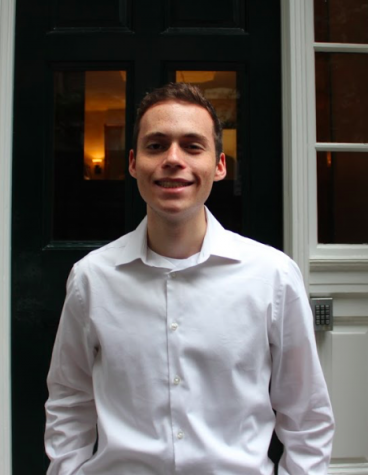 Zach Buller '20, Co-Editor-in-Chief
Zach Buller has been an active member of The Rampage staff since the first week of his freshman year, and now serves as Co-Editor-in-Chief. In his four...