DonorsChoose Basketball Tournament

Hang on for a minute...we're trying to find some more stories you might like.
Usually, students are eager to get home after the conclusion of a long day at school, but not on orientation day. After the Ramaz student body was welcomed back to school, Jack Fisher '20, and Sophia Kremer '20, hosted a charitable basketball tournament that raised money and awareness for DonorsChoose. DonorsChoose is a nonprof it organization that allows donors to select from a wishlist of needs posted by teachers in low income public school classrooms. Teachers post basic needs such as school supplies, books, classroom furniture, and technology and donors take initiative to fill that gap.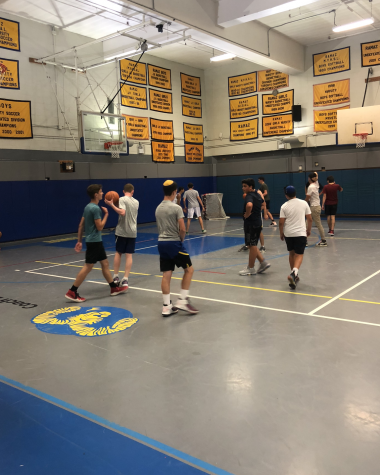 Forty-five students attended the three-on-three tournament, each paying an entry fee of $18. Fisher, who co-founded the DonorsChoose club in addition to co-organizing of the tournament, said, "Sophia and I wanted to start the year off on a fun note by organizing a tournament to promote a great organization whose mission perfectly connects to the first day of school." 
Ralph Nakash '21, a participant in the event, remarked, "it was really cool to know that we were playing for a good cause, and we appreciated the pizza dinner that the tournament organizers provided for us."  Although most of the tournament participants where boys, a handful of players from the girls' varsity basketball team atte
nded as well. Caitlin Levine '21, a player on the team and participant of the tournament said, "After a long summer, it was great playing basketball with my teammates back on the Ramaz court. It was especially rewarding that this charitable event involved boys and girls." 
In the end, the winning team chose to which classrooms they wanted to donate the proceeds. After much consideration, the team chose to fund a rug for a classroom in Kenosha, WI; basketballs for a classroom in San Elizario, TX; and Chromebooks for a classroom in Williamsburg, KY. Future grades plan on turning the back-to-school tournament into a tradition.