Q&A: Getting to Know Ms. Yael Landau
Ms. Yael Landau, a new Ramaz teacher, is excited to be back in a Jewish environment, teaching her favorite subject: math. She feels welcomed in the Upper School and is looking forward to teaching and learning from students. To introduce her to Ramaz, the Rampage interviewed her and learned more about her.
Rebecca Massel: Where are you originally from? What schools did you attend?
Ms. Landau: I grew up on Long Island. I went to North Shore Hebrew Academy and then Queens College.
RM: Why did you decide to become a math teacher?
YL: I love math! I was a literature student in college and decided to take a few math courses. I fell in love. It is so challenging, yet exciting.
RM: What do you love about math?
YL: Teaching math is a lot of fun because I think that people have an innate curiosity for math. Math is super fun to teach. Students have these "ah-ha" moments and there is something satisfying about that. I like hard and challenging problems and helping my students figure them out.
RM: What do you enjoy doing in your free time?
YL: I love to read, I enjoy traveling, and I have been taking ballet classes since I was five. I also participate in a Monthly Puzzle Competition.
RM: Where was your favorite trip? Why?
YL: For a while, I taught in Hong Kong as part of the John Hopkins Center for Talented Youth. I loved that and my students there. Working abroad is a cool way to travel because I really got to interact and meet the students there.
RM: Where else have you taught math?
YL: I came from the Nightingale-Bamford School.
RM: How does Ramaz differ from the Nightingale-Bamford School?
YL: I am really thrilled to be back in Jewish education. It is nice to see that everyday and all around the school. I believe in Jewish education.
RM: What classes do you teach at Ramaz?
YL: This year, I teach all of the grades and various levels: freshman accelerated geometry, sophomore algebra, junior BC Calculus, and senior accelerated calculus. 
RM: What is your favorite topic in math?
YL: My favorite topic is always changing! I love them all.
RM: What is your overall experience so far at Ramaz?
YL: So far, everyone has been super nice and welcoming. It's been really easy to feel at home here.
RM: What do you hope to bring to Ramaz?
YL: I hope to bring enthusiasm and love of mathematics to Ramaz.
RM: What are you looking forward to gaining from your experience at the school?
YL: I look forward to getting to know my students and this great community.
More from this Journalist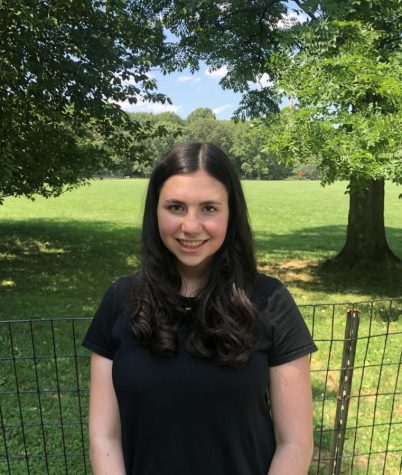 Rebecca Massel '21, Editor-in-Chief
Rebecca Massel has been a journalist since lower school and is excited to be an editor-in-chief of The Rampage. She has been an active writer for the paper...