Q&A: Getting to Know Coach Mike Sweetney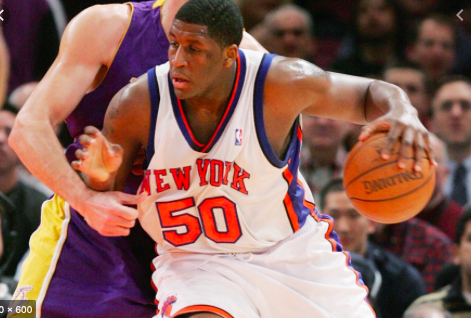 Spencer Rubinstein '21
September 25, 2019
The 2003 NBA draft is widely recognized as one of the greatest drafts in NBA history. Four of the top five picks will one day be in the Hall of Fame; you probably recognize the names Lebron James, Carmelo Anthony, Dwyane Wade, and Chris Bosh. With the ninth pick of the draft, the New York Knicks selected Michael Sweetney. Sweetney played for Georgetown University and was a second team All-American in his junior year. At 6'8 and 275 pounds, Sweetney was a force to be reckoned with in college. He was the only player in the nation to rank in the top 20 in scoring and rebounding his junior year. Although he only played three seasons at Georgetown, he still ranks seventh in the school's career scoring list and fifth in rebounds. Over a 12 year period, Sweetney played in the NBA and in various countries overseas. This year, Sweetney joined Ramaz as an assistant varsity basketball coach.
Spencer Rubenstein: Mike, where did you grow up?
Mike Sweetney: I grew up in Oxon Hill, Maryland near Washington D.C. 
SR: You must have had a lot of schools recruiting you for college, why did you choose Georgetown?
MS: I actually committed to Georgetown after my freshman year of high school! They were the first major college top recruit me, and I knew they had a history of sending big names to the NBA like Patrick Ewing, Dikembe Mutombo and Alonzo Mourning.
SR: What was your major in college?
MS: Sociology. I left college for the NBA after my junior year but I plan on getting a degree in psychology and then going for my Masters.  
SR: Where did you live while you played for the Knicks?  
MS: I lived in White Plains in Westchester because it was close to the gym where we practiced.
SR: What were your favorite things about New York City?
MS: No matter how bad we played, the fans always showed love to me and my family, and there was always something interesting to do in the city. 
SR: Least favorite?
MS: The traffic! Sometimes it would take 20 minutes to drive a mile.
SR: How did it feel to be traded from the New York Knicks to the Chicago Bulls in 2005?
MS: I was really sad to leave because I felt comfortable in New York, and the feeling of a team giving up on you hurts.
SR: You played a lot of places overseas, what was your favorite and least favorite?
MS: My favorite place to play was Puerto Rico; it was amazing weather and the fans were great. My least favorite was China. It was the first time I lived outside of the U.S. for an extended period. Dealing with the time difference and playing in freezing gyms was a very hard adjustment.
SR: What was the hardest part about being a professional athlete?
MS: Definitely the travel. You are pretty much living on planes and in hotels for the majority of the season. 
SR: What did you do after you retired from basketball?
MS: I took some time to be with my family and became a mental health advocate for students and adults. 
SR: How did you like working in Israel at the basketball camp run by Tamir Goodman?
MS: I love Israel! It is one of the most peaceful places I've ever been in my life. It is a very spiritual place, the food is amazing, and I met some great people.
SR: What was your favorite part of living in Israel?
MS:ּּ Being able to take a walk in the middle of the night when I couldn't sleep. It was so nice and peaceful. 
SR: What led you to Ramaz?
MS: My good friend Tamir Goodman connected me with Mr. Eli Katz. Eli's dad is a great basketball mind. Eli is like his dad in many ways. I am honored to work with him. I also met Rabbi Slomnicki, who is an amazing person, so I knew Ramaz would be a great fit. 
SR: What are your initial impressions of the school?
MS: Everyone has been so welcoming. Being around the students, I can tell that their parents are doing a great job raising them. 
SR: How would you assess the prospects for the varsity basketball teams?
MS: The teams have a lot of talent and potential. They seem to be emerging in the culture that Eli and I are trying to instill. I'm excited to see what the year brings. 
SR: Okay Mike, speed round:
     SR: Favorite movie? 
     MS: Law Abiding Citizen
     SR: Favorite TV show?
     MS: Ballers
     SR: Favorite musician? 
     MS: Jay Z
     SR: Favorite actor?
     MS: Denzel Washington
     SR: Favorite athlete?
     MS: Lebron James 
We are excited to welcome Mike Sweetney as the assistant varsity basketball coach at Ramaz and wish him great success in his new role.