Launch of a New Talent: Evelyn Landy Publishes Her Debut Novel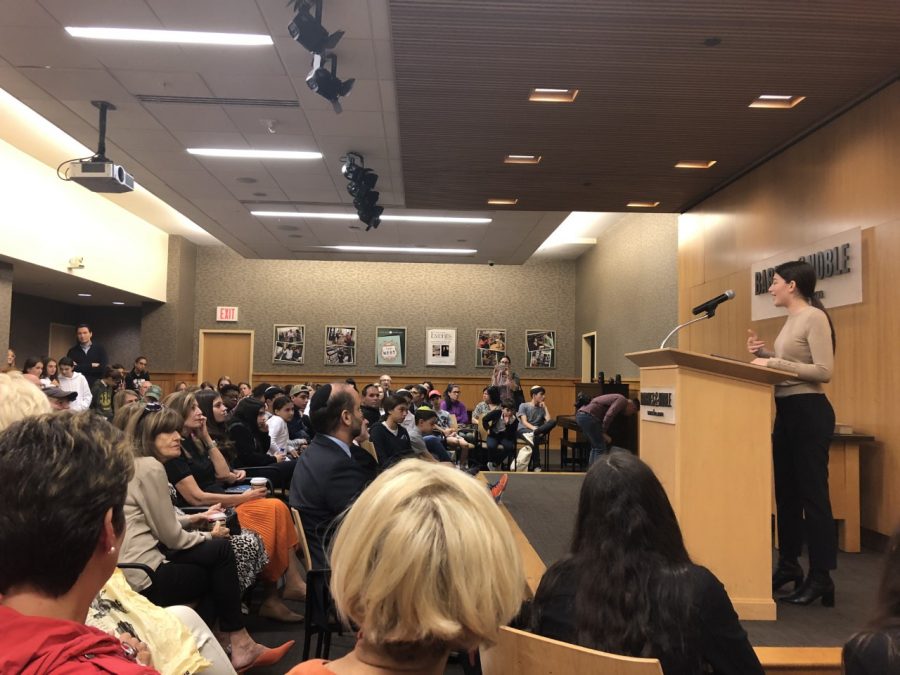 Debuting her first novel, she stepped onto the stage with a confident stride. At just 17 years old, she is the youngest author the Barnes & Noble of East 86th Street has ever featured. Her peers were impressed that she could write a complete novel while managing the infamous Ramaz workload. The author is none other than Evelyn Landy '20. Having recently published her first book, The Lie in Our Hearts, a coming-of-age story about a girl learning to find love, Evelyn made her debut as an author at Barnes & Noble on East 86th Street, surrounded by the Ramaz and KJ communities. 
The 17-month process from first draft to published masterpiece was a lengthy one, and Evelyn's spark of inspiration came from an unlikely source. While studying for finals in January of tenth grade, Evelyn was listening to music and created a mental storyline with the lyrics she heard. After realizing this plot had great potential, Evelyn crafted her book during free time and vacations, despite the demanding workload. Being that the book's setting is high school, Evelyn found it especially helpful "to write about high school when you are in high school." Pieces of teenage dialogue in school hallways influenced character dialogue throughout the book. 
During the writing process, Evelyn had no strict outline, but a general idea of where the story would be headed. After completing a first draft, she sent her work to a company that assists in self-publishing, and was soon paired with an editor. Originally, Evelyn began writing the book for pleasure, and would never have imagined the project to go as far as publishing this book.  Lies speaks to a diverse crowd Evelyn's message in The Lie in Our Hearts is to teach people the importance of self-love before loving others. She wants to encourage young writers to develop their craft and not be afraid to publish because of their age. The title Evelyn chose to paraphrase  from the quote "The beautiful thing about young love is the truth in our hearts that it will last forever." Evelyn advises aspiring young writers to write as much as they can during their free time and to make writing a focus if they are really serious about it. 
In many ways, Evelyn has been an author in-the-making for her entire life. Even before she could write, Evelyn always had a vivid imagination and would create stories as a child. Evelyn seized the opportunity to write whenever possible. In addition, reading frequently helped to shape Evelyn into the writer she is today. As a writer, Evelyn felt the vulnerability that comes with writing, saying, "It felt like I was putting a lot of myself out there, and I didn't expect that." 
On Friday, September 20, Barnes & Noble held a book launch that was attended by Ramaz faculty, KJ members, and friends, all proud to support Evelyn and eager to read The Lie in Our Hearts. Evelyn read an excerpt from her book, held a Q&A session, and signed books. A line of enthusiastic fans snaked around the room, excited to have their books autographed by Evelyn Landy. All proceeds from book purchases at the book launch went to Ramaz. Ms. Litwack, having taught Evelyn for two years in high school, "saw her writing grow—and this is why people go into teaching." Dr. Gaylord, who attended the launch, is "proud that [his] colleagues have had some hand in this." He also wished that "more people had aspirations in the direction of writing." After hearing an excerpt from The Lie in Our Hearts, Basia Fellner-Dublin '20 is inspired to explore creative writing herself and feels that" When you hear the character's voice, you can hear yourself and what you would be thinking." Rachel Shohet '20 feels "more compelled to explore [her] own writing." 
Barnes & Noble event manager, Sean said that The Lie in Our Hearts is the first teen-published book the store has ever sold and that it is great "to see the community come out to support Evelyn. We [Barnes & Noble] would like to think that we are the heart of the community, and these types of events really represent that." Ramaz is proud to endorse any academic achievementof its students or alumnae. Yasher Koach to Evelyn Landy and to her family. You make us all proud!
More from this Journalist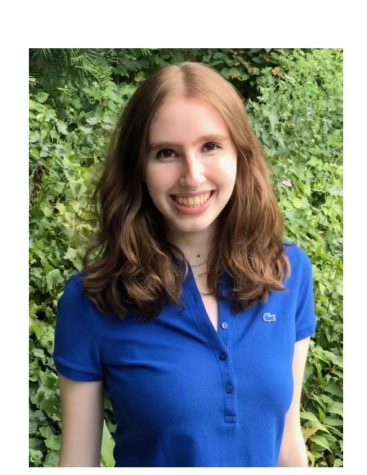 Samantha Sinensky '21, Editor-in-Chief
Samantha is a passionate journalist and loves writing for The Rampage because it is a window into the life of the student body that honestly reports true...