September 11th: Ramaz Remembers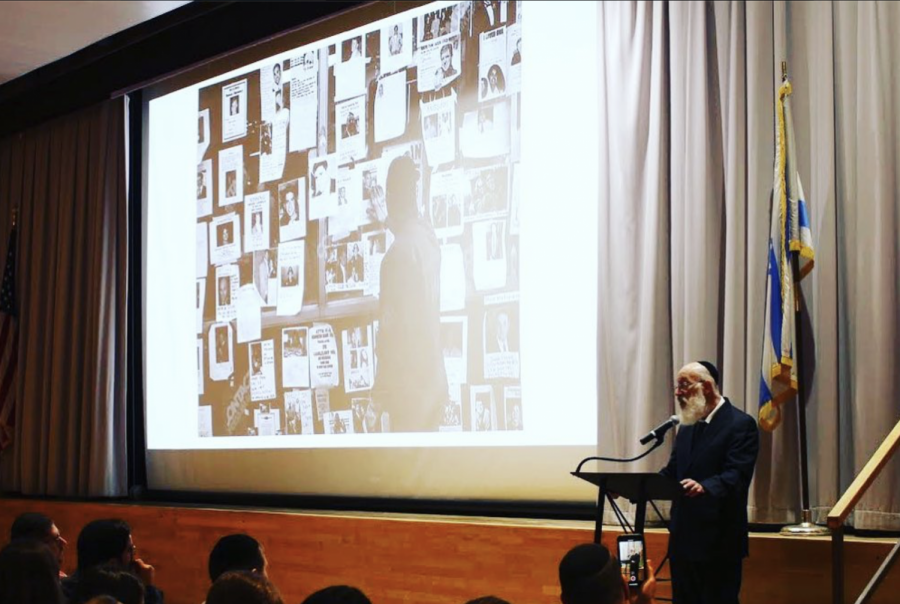 Ask any adult where they were on September 11, 2001, and they will share a detailed and emotional story, but for the current students of the Ramaz Upper School, the tragedies of 9/11 are simply history. This was one of the main reasons the Ramaz administration decided to dedicate two days of learning this year in memory of the tragic event. On September 10, four first responders to the Twin Towers attacks spoke to the students about how the day affected their lives forever. The next day, September 11, began with three periods of learning about the tragedy through the lens of different disciplines and was followed by a school-wide presentation by Rabbi Mordechai Willig, Rosh Yeshiva of Yeshiva University and Sigan Av (second judge) of the Beit Din of America. Of course, the  commemoration of this important day would not have been complete without giving back. Ms. Benel led a day of service on September 8 and two chesed activities on September 11 to provide an uplifting conclusion to an emotional memorial.
In previous years, 9/11 was commemorated at Ramaz with a speaker for each grade and a respectful visit to the firehouse on 85th street. According to Rabbi Sklarin, who organized the 2019 event, "Over the past few years, I have felt, based on feedback from students, that we had not done enough for September 11 in terms of recognizing the day." Mr. Cannon said that "because of the realization that this is the first year that none of the students in the school would have been alive on 9/11, we thought it was specifically an important year to recognize." 
The preparation for this year's 9/11 programming began before the school year started with a visit by the Upper School faculty to the the 9/11 Tribute Museum. Teachers watched videos, saw artifacts, and heard first-person accounts of the tragedy. Mr. Klotz described the trip, saying, "I appreciated the layout, and being there with my colleagues was a meaningful experience. I lived through it, so going to the museum and memorial was interesting, but I don't know that it drastically changed my perception of it or the way I spoke about it with my students." 
Once the teachers returned to Ramaz, each department was asked to create a lesson plan to be used on September 11 to illuminate different aspects of the tragedy: the World Trade Center, the repercussions of the events, or the ways in which the victims were memorialized. In English classes, students read memorial poetry, and in Hebrew, students learned about the Israeli reaction to the tragedy. In art, Kevin Goggin, faculty advisor of the photography club, presented Here is New York: A Democracy of Photographs, which depicted 9/11 from different perspectives through photography. Mr. Goggin, who volunteered to help assemble the book, described the creation of the masterpiece. Ms. Abramson gave a lighter perspective, telling the story of Philippe Petit, the man who illegally tightroped across the Twin Towers in 1974. One student commented, "studying 9/11's impact on the art community showed me how 9/11 impacted everyone, no matter who they were." A junior said, "The different subjects provided different applications…which opened my eyes to seeing the event in different lights."
While most teachers did teach about the attacks, the math department chose to veer away from the topic out of respect. Dr. Nironi explained, "[The math department] realized it would have been very difficult to come up with something that would not have been distasteful or inappropriate, so we decided to just have regular class." He explained that while searching online for math-related 9/11 lesson plans, they read about a 2017 high school teacher who created a math problem about the tragedy. Students and parents were outraged about the disrespect of this problem. "We didn't want to do something that could be perceived by even a single person as insensitive," explained Dr. Nironi.
What touched students the most were the teachers who shared personal experiences with their classes. "My teacher, who was not in the Twin Towers," said one sophomore, "cried when telling us about his day. For me, that illustrated how impactful and life-changing the day was to every single New Yorker."
On the morning of September 10, Ramaz held two separate assemblies, one for the freshman and one for sophomores, juniors, and seniors. Both programs included speakers from the 9/11 Tribute Center. 
The upperclassmen heard from two guest speakers, Ms. Sonia Agron and Mr. Joe Agron. Because they were introduced only by their first names, students assumed no relation between them. Mrs. Agron recounted her 9/11 experience in the NBC building in Manhattan, planning a surprise for her husband's birthday. In the meantime, Mr. Agron arrived home and learned of the first plane crash into the Northern Tower of the World Trade Center complex. A police officer for thirty years, Mr. Agron ran to pick up their daughter, who later said, "I don't understand, my daddy hugged me closer than ever before and was afraid to leave," relayed Mrs. Agron. "I didn't know how to tell her what that meant. How do you tell a sixteen year old that her father thought it would be his last day of life?" Once Mrs. Agron arrived at home, she received a call from her husband that he was on the scene. She described her reaction to the call, "I wish I could tell you we were happy to hear from him, but it was the feeling of relief. I would do anything to hear my husband's keys again." Two weeks after the attack, Mrs. Agron, an EMT, was assigned to Ground Zero to care for the wounded victims. Mrs. Agron shared with the students that both she and her husband are suffering from incurable diseases as a result of the fumes they inhaled working to save lives in the weeks following 9/11. Mrs. Agron ended her speech, saying, "We do what we do to honor those who no longer have a voice. Eighteen years ago they stole the voices of 2,977 people, but they did not take mine, so we live every day as if it is our best, and we tell students like you to go out and do acts of kindness and make our community stronger. Evil will come, but love will conquer the evil." She handed out cards, instructing the students to do a random act of kindness and pass on their note to support the next New Yorker. Mrs. Agron explained to us that speaking has helped her and her husband both cope with the disasters they faced. Mrs. Agron then introduced the man standing on the stage, which, to the students' surprise, was her husband. 
Mr. Agron told the Ramaz students that September 11, 2001 was "the first time in my career that I did not know if I would come back." He described the experience of approaching Ground Zero on 9/11. "It was getting darker and darker," he said, "all I could see was a warzone." A year later, Mr. Agron, suffering from survivor's guilt, retired after a thirty year career as a police officer, and, before that, a marine. "I felt I had not protected or served…I was helpless…It took my wife five years to convince me to come and talk at the Tribute Center. I knew this was where I had to be if I wanted to heal," he said.
Ramaz students were in awe of the stories of heroism, calling them "impactful," "powerful," "courageous," and "meaningful." The auditorium was silent as the students listened with chills and tears as Mr. and Mrs. Agron unfolded the emotions of the day onstage. A 10th grader added, "The speeches broadened my understanding of the tragedy and how it had a lasting impact on some of its victims. Often it is difficult to imagine oneself in circumstances we are not used to, and we therefore can't truly understand how tragedies impact their victims. This presentation definitely brought us back to the place and time of 9/11."  Many students reported they were so inspired that they passed on the cards Mrs. Agron gave out. Ms. Benus said, "Mrs. Agron spoke with such passion and Mr. Agron with such emotion. It was so special…I gave the card I received to a bus driver on the M79, hopefully he read it and passed it on."
At the same time, the freshmen heard from Dan Noesges and Frank Dell'Alba. Mr. Noesges spoke about watching the attacks unfold and arriving at the scene the next day to recover bodies buried in debris. He passed out photographs of the recovery process to help students feel the pain of witnessing the repercussions of these plane attacks. Mr. Noesges is a proud Vietnam veteran and was honored to once again dedicate his services to his country.
Mr. Dell'Alba is a retired firefighter. On September 11, 2001, he was recovering from an injury, yet, his son, who was also a firefighter, reported to his station that day. Mr. Dell'Alba described the fear of watching the news, knowing his son would be in the midst of the chaos, helping others, not sure if he would make it out alive. Ultimately, his son was stationed at the Verrazano Bridge to protect from attacks. Mr. Dell'Alba expressed his deep gratitude for this miracle which saved his son's life. He said he will forever trust G-d. Years later, when Mr. Dell'Alba designed his station's patch, he featured the Verrazano Bridge to show his appreciation.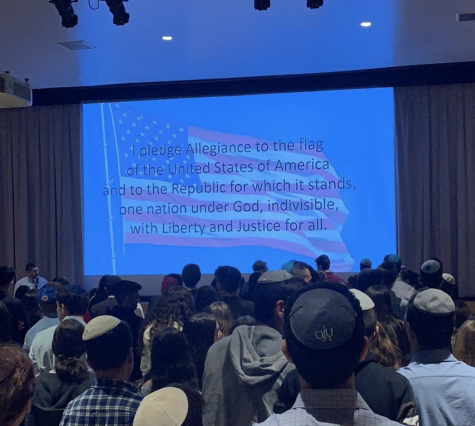 On September 11th, the entire Upper School joined together again. Now, Rabbi Willig spoke about the issue of women whose husbands were only presumed to have died on 9/11 and were therefore considered agunot. Rabbi Sklarin introduced Rabbi Willig's topic by explaining that two fifths of those who perished were unidentified. He described the buildings plastered with signs and families running to hospitals weeks after the attacks in desperation. This led to the issue of agunot. According to halacha, if a man or woman commits adultery, he or she committed an issur karet, the worst possible offense in Judaism. This means that if a woman remarries because she thinks her husband died and later she learns that her husband is still alive, she has, halachically, committed adultery. Because of this, until a death is verified by a Beit Din (Jewish Court), the woman is called an agunah, or a "chained woman." 
Rabbi Willig spoke about ten women who came to him after the attacks on 9/11 asking for help. They needed confirmation that their husbands were dead. Rabbi Willig described a few cases in detail. By using DNA, witness testimony, MTA records, and other in-depth forensic analysis, Rabbi Willig did not stop searching until every woman's husband was declared dead. The tears in his eyes made it clear how dedicated Rabbi Willig had been to aiding these women. These were not simply cases to him; they were personal tragedies, and this work allowed the women to begin to manage in a world without their husbands. 
Rabbi Willig's presentation was not a "classic" 9/11 speech by a first-hand witness, yet, many of the students were interested in this new perspective. Brayden Serphos '22 said, "I loved the speech. This was an issue I did not really know much about, but is very important. [Rabbi Willig's speech] shed light on this topic which was new to me. I am interested in learning more about how he helped agunot." One senior said, "I thought Rabbi Willig's speech was very interesting and taught me a lot. I felt like it placed an emphasis on an issue that is not usually addressed regarding 9/11." Rabbi Weiser explained the importance of Rabbi Willig's work: "Some argue that if Jews really cared about helping agunot, they would find solutions for agunah problems. Rabbi Willig showed that they do! The Torah gives us tremendous latitude within the halacha to give us ways to help agunot."
Although students understood that Rabbi Willig's work was instrumental to the lives of these ten women, many students questioned the format of the 9/11 programming. Three main issues arose. First, students debated whether an American memorial day should be approached through a Jewish lens. Some applauded the school for integrating Ramaz'z American and Jewish elements. One senior commented, "As a Modern Orthodox school, the hallmark of Ramaz has been, from its inception, to be a place of Torah and secular studies. It is the job of the school to give us a perspective of the secular world that ultimately reflects Jewish values, and therefore it is important that we see secular events from a Jewish perspective as well." To contrast, other students wished the assembly on 9/11 had been more focused on the American tragedy rather than presenting the Jewish perspective. A 10th grader said, "9/11 is a day to relate to our American community, to our New York community, not necessarily our Jewish community." A senior expressed her opinion, saying, "It felt a little bit like we were focusing too much on the Jewish aspects of the tragedy and not enough on the American aspects of the tragedy. I wish we had sung the Star Spangled Banner again on 9/11." Rabbi Sklarin explained that the school could not get a survivor of the Twin Towers to speak on 9/11 because many first responders and survivors were commemorating the day at their own memorials. This same problem arises every year which is why the administration brought in first responders to speak on 9/10. Rabbi Sklarin explained, "The issue of agunah might seem foreign to some people, but for Orthodox Jews in particular, it was one of the most tragic outcomes of September 11. I wouldn't just have Rabbi Willig come as the sole 9/11 speaker, but the day before, four people who were not Jewish spoke, so I don't think having Rabbi Willig come was so particularistic."  Rabbi Stochel expounded on these ideas, saying, "This was an opportunity with multiple purposes. It was to intertwine our American and Jewish identities. This was an opportunity to show how halacha interacts with tragedy."
The second issue raised was the lack of preparation for the 9/11 assembly. Only half of the 20 juniors and seniors polled were aware of the agunah issue before hearing Rabbi Willig's presentation. One junior said, "It was kind of assumed that we had a basis of the agunah issue before Rabbi Willig's speech, but I did not. In the twenty-first century, I have a lot of questions about the morality behind the agunot issue, so I was very focused on my questions during Rabbi Willig's speech. I am grateful, however, that rabbis like Rabbi Willig worked to solve these cases after 9/11." Another student suggested, "Perhaps we should have learned about the agunah issue the day before in Talmud classes to give us some background and then debrief the next day." Rabbi Stochel agreed, "The whole context of agunot should have been taught before Rabbi Willig's remarks." Some students suggested that Rabbi Willig's presentation would have been more appropriate in a smaller classroom setting, but Rabbi Stochel explained that a small setting would have not been appropriate or sufficiently respectful to such a distinguished posek and rosh yeshiva.
The last issue students brought up was Rabbi Willig's hashkafa, or mode of Jewish thought. One female senior was upset that Rabbi Willig "isn't necessarily in favor of widespread women's Talmud learning." In response, Rabbi Sklarin elucidated, "I think that is a narrow viewpoint, and those who argue that Rabbi Willig should not come to Ramaz for that reason should appreciate the totality of a person even if there is disagreement with some of his views." Rabbi Sklarin emphasized that Rabbi Willig has been a tireless advocate for Jewish women in America. He conceived of the Beit Din of America Prenuptial Agreement, a legal document ensuring that in the case of a civil divorce a man must give his wife a get (a halakhic divorce). Rabbi Willig worked extremely hard to promote this practice and urged rabbis to insist that the couple sign the document. As a result of his efforts it is now commonplace in most Modern Orthodox marriages. Rabbi Weiser stated, "Rabbi Willig is considered a Talmud Chacham Atsum (awesome scholar). If he has an opinion within the framework of halacha, you can respectfully disagree with him with a contrary halachic opinion or halachic philosophy. But you cannot invalidate that person because you disagree with them."
Mr. Cannon gave the concluding remarks at the assembly on 9/11. He quoted Mr. and Mrs. Agron, speaking about the need to commemorate the evil of 9/11 by spreading good deeds. While reviewing the lessons students can take from the two days of assemblies, Mr. Cannon reminded students that Mr. and Mrs. Agron both have terminal illnesses because of their inhalation of fumes near Ground Zero. Mr. Cannon explained, "In contrast, all of us have the liberty to choose what to put in our bodies, so we should actively choose not to inhale the fumes of e-cigarettes or juuls." Mr. Cannon concluded that students can honor those who lost their lives by making "sensible health decisions." 
Mr. Cannon received some negative feedback for his point about not juuling or vaping.  Some students felt this issue was not connected to 9/11 and should not have been tied to the national tragedy. Mr. Cannon expressed his reasoning for incorporating this concept, "The thing I found most difficult to hear was that they had both contracted cancer as a result of breathing in the fumes…The night between these two [assemblies], I was actually reading the paper, and I was reading about how many people have been made sick by juuling. I was just struck by this overlap of inhaling dangerous fumes either through unavoidable circumstances or through choice. Whether we like it or not, juuling has become a real problem and it is our job as a school to make people aware, any way, any how. One of the ways we can be respectful and remember people is by making sensible decisions and choosing life and choosing health."
In order to put into action Mrs. Agron's message of doing kindness to beat the evil, Ms. Benel held a 9/11 Day of Service on Sunday, September 8. Ms. Benel expressed the meaning behind the day of service, "We had a traditional day of service because it was decided by the people at the 9/11 Tribute Center a long time ago that the way in which we can begin to move forward after such a horrific attack was to begin to repair by doing good. We looked for organizations that are repairing bad by doing good."
In the morning, students heard from Beverly Wolfer, the sister of an American soldier who died at war, Major Stuart Adam Wolfer. She told about the incredible man her brother was and the organization which she created in his memory, MSAWI. Part of the organization involves giving stars from American flags which can no longer be used to soldiers and veterans. She told us how she once gave a star to a veteran on the street and how he thanked her and said that she was the first person to ever appreciate his service to the country. Students packed one hundred Rosh Hashana gift packages and "Stars for Our Troops" to be mailed to Jewish soldiers overseas. 
Later, Jennifer Gruenfeld, the volunteer coordinator of OHEL Children's Home and Family Services spoke. OHEL is a Jewish organization which helps support those with special needs as well as a foster care service to protect children and adults in need of a loving and nurturing environment. Students filled fifty cosmetic bags with personal hygiene and gift wrapped board games for women and children living in OHEL abuse shelters. Toward the end of the morning, students packed back-to-school backpacks with notebooks and binders for the Coalition for the Homeless. These backpacks will be donated to middle school New York City children living with their mothers in domestic abuse shelters. 
In the afternoon, the Friendship Circle brought their children with special needs to spend the afternoon with the high school students. Pairing up with a Friendship Circle buddy, Ramaz students enjoyed activities including a Bouncy Castle, basketball games, cookie decorating, and upbeat Hebrew songs. A freshman said, "I loved the activities and felt like this event sensitized me to others' challenges in a fun environment!" Michal Seinfeld '21 reflected, "I really appreciate the concept of giving back in remembrance of September 11."
To end the day of service, Ms. Benel led students to the Grand Central Food Program. Students packed boxes of food for people living on the streets. People came to pick up the boxes as well as soup, milk, bread, and dessert. A sophomore commented, "By the end of the three hours, I was hungry for dinner and that made me really appreciate everything I have. I knew that when I got home, there would be a meal waiting for me. Many of the people that came to the food pantry would never have the experiences I do every day." 
On September 11, during all three lunch periods, OHEL members with special needs came to eat lunch and decorate tzedakah boxes and challah covers with Ramaz students. "After Rabbi Willig's heavy speech, it was nice to be able to do something good and proactive," a student said. 
After school, a group of students walked up to the 86th Street Firestation to pay respect to the nine firemen who sacrificed their lives on September 11. The pictures of these firemen were hanging in the upper school lobby throughout the day. A Ramaz student shared her opinions of the week's programs, "Education of 9/11 is important and I am grateful that the school took the time for it. But, moreover, 9/11 is about commemorating, giving back, and telling both first responders and other Americans: we appreciate you and are here for you."