Update: College Office Renovated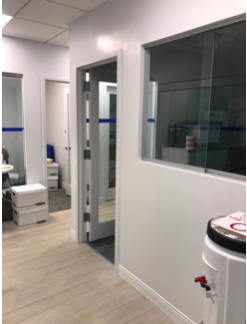 Hang on for a minute...we're trying to find some more stories you might like.
Update: the college guidance office has been dramatically renovated. Students now comparing the old to the new will realize that the old college office was outdated, displayed bland-colored walls, and presented an openness not conducive private meetings. This new office is quite the opposite, with modern glass walls providing a new and open feeling, yet allowing for confidential conversation. Dr. Honig said, "The construction was to provide confidentiality when speaking with students, and I've gotten good positive feedback so far". Many Ramaz seniors confirmed Dr. Honig's claim. Senior Alyssa Hackel '20 had a meeting with her mother and college advisor recently and reported that the new office helped her feel less stressed during the meeting. In her words, "speaking about college could easily get me anxious, but the new closed  area let my mind remain stress-free." Ramaz students are excited for the luxurious new college office and hope that its clean and modern environment will comfort the already intense and stressful college application process.