Poll: Vending Machines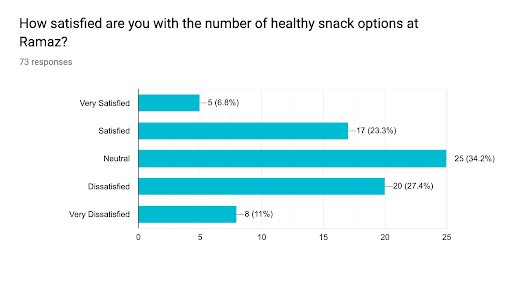 Have you ever wished that your favorite snack was in the vending machine? The Rampage polled Ramaz students about their thoughts on the contents of the Ramaz vending machines.
When asked which snacks the surveyees wanted added to the vending machines, out of the 73 submissions, 52 (72.6%) said they wanted gum added to the vending machines and 31 (42.5%) said they wanted Caramel M&M's added. Other suggestions included Instant Ramen Noodles and Ice Cream. 
When asked which snacks they wanted to be removed, 47 (69.1%) said they did not want Yogurt Covered Nut Mix in the vending machines and 42 (61.8%) said they did not want Knot's Strawberry Shortbread. 23 (33.8%) to 36 (52.9%) people said that they did not want Multi-Grain Tortillas, Olive Oil Chips, Nutri-Grain Bars, Planter's Peanuts, Hazini Almonds, and Creamy Ranch Habanero Chips (in increasing order of how many did not want these items). A few other students suggested that Nacho Chips and Pound Cake be removed. It seems that students would prefer for Yogurt Covered Nut Mix and Knot's Strawberry Shortbread to be replaced with gum and Caramel M&M's. 
Ramaz students were asked to make a choice of which snacks would they add more of to the vending machines.The most voted snack was Peanut M&M's for only 26 votes (46.4%), Mike and Ike's with 25 votes (44.6%), and Party Mix with 25 (44.7%) votes. A few other students wanted more Cliff Bars, Doritos, Kit Kats, Twix Bars, Strawberry Shortcake, Instant Macaroni and Cheese, and Pizza. 
Finally when the surveyees were asked if they were satisfied with the number of healthy snack options at Ramaz the results peaked at neutral, with a few more students dissatisfied than satisfied.