Ram Couture: An Interview with Apparel Chair Cayla Todes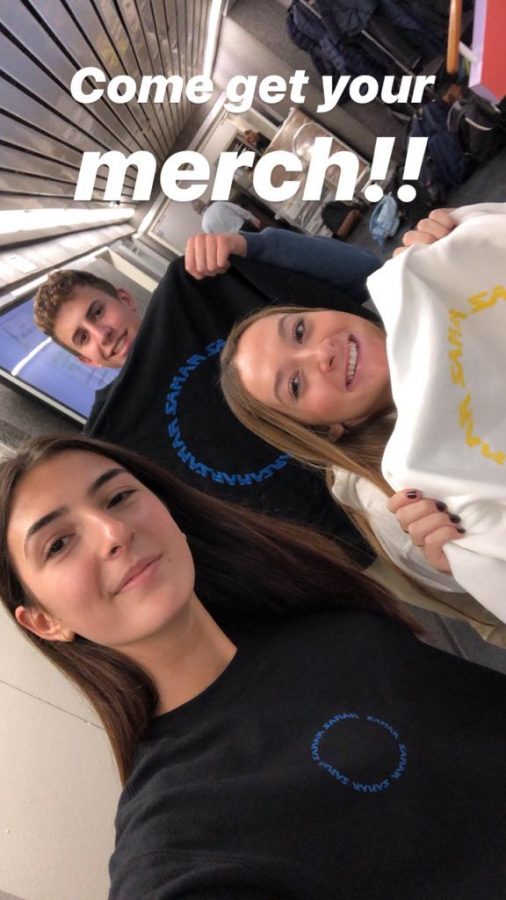 Among their many unique attributes, Ramaz students are very fashionable, dressing très chic for school. It is not uncommon to find a Ramaz student in the hallways proudly sporting his or her Ramaz apparel, designed by the Upper School's Apparel Chair, Cayla Todes '20 along with the G.O.. The first release of the season was unveiled in October, and since then, students have been able to show their school spirit, while also keeping up with the latest fashion trends. 
As Apparel Designer, Todes is on a mission to dress the Ramaz student body in sharp Ramaz wear. "Th
e Ramaz students are looking for apparel they can wear everywhere, while displaying school pride," said Todes. For each release, she makes sure the apparel, usually sweatshirts, somehow connects to Ramaz style trends, ensuring that students will be eager to wear it. Sometimes styles feature the Ramaz Ram, the school's name, or its signature colors of yellow and blue. Although Todes "has never made clothing before, [she] has always had ideas" and is excited to contribute to the student wardrobe. Todes works closely with the GO and ensures that the best possible design is released. This has proven to be very successful, as Avigail Dupont '21 said, "I love the Ramaz apparel! I am looking for a sweatshirt that is comfy and cute, something I will actually wear, and the latest Ramaz merch accomplishes this. I wear my Ramaz sweatshirt both in and out of school." Isaac Amar-Ouimet '21 loves that "the apparel is unisex." 
The common "uniform" of a Ramaz student is sweatshirts and hoodies everyday, and Todes makes sure to cater to this casual, cozy look. "Accommodating the students' tastes is priority. I am not going to design a knit sweater that says Ramaz on it, that just isn't what I think people would buy." Todes also takes inspiration from popular streetwear brands worn by many students, and pieces from her own closet that she can envision morphing into Ramaz Apparel. In order to make the sweatshirts stand out, Todes makes sure "the designs are always new, interesting, 'in' at the moment, and not a repeat of previous designs on a different sweatshirt." Many students can attest to this, as fashionista Adena Horvitz '21 said, "I am very impressed that the Ramaz wear is both appealing to the students and keeps up with the current fashion trends. I enjoy representing Ramaz and stylish apparel is a fun way to spread school spirit. It's great that students are designing apparel for other students." 
Although Todes possesses much creative freedom, certain factors must be considered for each design, and the price is most important."The more intricate and detailed the design, the steeper the price," explained Todes. "Some designs go through several iterations in order to keep the price down." The Ramaz apparel is being sold to high school students, and so  the price has to be reasonable. Students appreciate the relatively cheap prices of the Ramaz apparel, with students like Amar-Ouimet said, "I'm glad I don't have to spend $45 on a sweatshirt to show support for my school." 
As a connoisseur of all things fashion, Todes has been interested in design and art from a young age. "I was always that kid who was obsessed with clothing, fashion, and critiquing outfits." She studied graphic design over the summer, as digital design is the platform in which the Ramaz couture is created. She plans on pursuing graphic design in the future, and is very interested in typography, (i.e. the art of creating appealing text design), a skill that overlaps with her role as Apparel Chair as well. Todes has been doing a superb job dressing the Ramaz students in casual chic, while also ensuring the school logo is represented well. We can all fashionably and comfortably relax, knowing that we are only a season away from Cayla's next line of Ramaz wear.