Alumni Reunite for Yom Iyun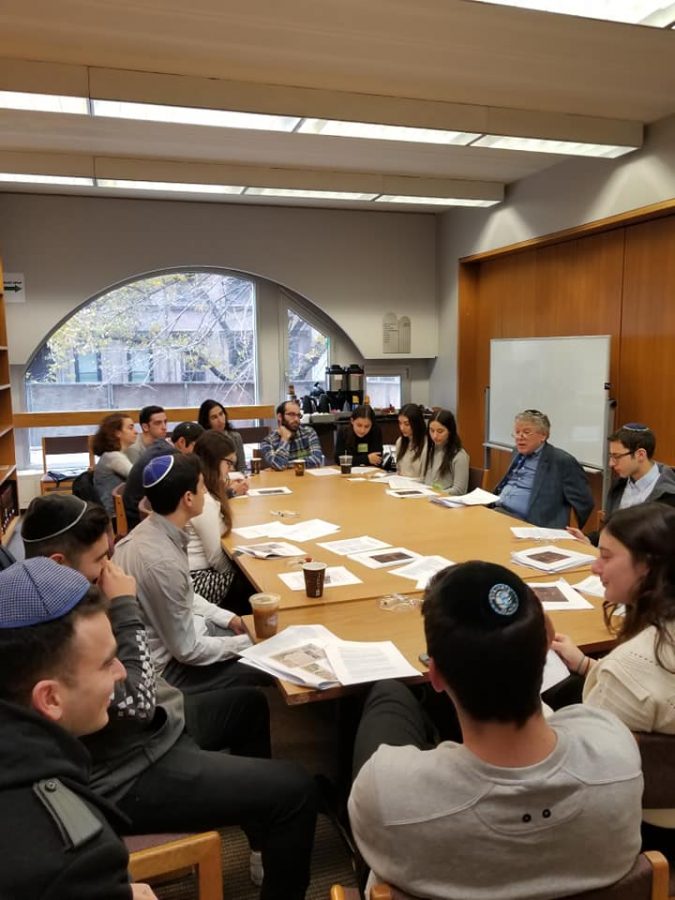 Every year, Ramaz hosts a day in the fall to welcome alumni back to school to learn with their former teachers, enjoy one more school lunch, and reconnect with friends. Called the Ramaz Yom Iyun, the school's alumni-focused event geared toward graduates from the classes of 2015-19 takes place each November on the eve of Thanksgiving—this year on November 27th. Rabbi Schiowitz, the initiator of the Day of Learning, explained that "the goal of the Yom Iyun is for the school and the teachers to reconnect with the alumni through learning together." Usually, there is a theme for the Yom Iyun, but this year, teachers taught whatever most interested them.
Granting the teachers freedom to give "greatest hits" style classes was a home run. Many of the 35 alumni in attendance remarked that the day was a huge success both socially and academically. "It was nice to be back with my friends in a place where we spent so much time learning and growing together," said Hannah Sholes '18. Many alumni showed interest in reconnecting with their high school teachers and learning with them again post-graduation. Sholes felt that "it was really meaningful to come back from college and see my high school classmates and teachers." 
The purpose of the day is to reconnect students in college not only with each other but also with Judaic learning. Although it might be surprising to current Ramaz students, many alumni said they miss the Judaic curriculum. "It's really hard having a full course load in college without Judaic studies built-in, and it can be difficult to make time to learn," said Natalie Kahn '19, "Sometimes it's good to have a day dedicated to doing that."
According to Rabbi Schowitz, the main purpose of the day is to "leave students with the message that Ramaz is interested in maintaining a relationship with them and in continuing to be a community of learning." This year, the organizers decided to dedicate the day in memory of Joseph Krikheli, the father of Tammy Krikheli '18, who recently passed away. An in-school chesed project was organized and dedicated on his behalf as well. 
When asked how else the school is connecting with college-aged alumni, Rabbi Schiowitz responded, "We have had a number of visits to college campuses where teachers learn with alumni there. Last year, we made about 10 visits, and we hope to do the same or more this year and in the coming years." Many of the college campus visits have been extremely well received. Rabbi Sklarin, who has visited schools as far as Boston University, Binghamton, and UChicago noted that "these visits almost always had a communal meal (whether in the dining room or a separate room) and then a shiur. They are very successful with a high turnout of Ramaz students, and we've received a very positive response."
At the Yom Iyun, students had a chance to learn about "Illustrations of Sinai in Hebrew Manuscripts" with Rabbi Sklarin, "High Crimes & Misdemeanors" with Dr. Jucovy, "Lessons for Life from Parshat Hashavua" with Rabbi Schimmel, "The Avoda of Being Grateful" with Rabbi Gober, and "Postmodern Art: Questioning Creativity" with Dr. Gaylord. 
"The goals for the Yom Iyun are for the school and the teachers to reconnect with alumni through learning together. We are targeting college-age alumni who are often on vacation on the day before Thanksgiving and are interested in visiting," added Leah Felner, Director of Alumni and Constituent Relations. "It is a day that we have always had alumni returning from college to visit Ramaz, but we never had a formal program for them. We have found that there is a strong interest among the alumni to learn with their high school teachers. This is certainly the case for Judaic Studies since alumni in college do not generally have a Judaic Studies program. Interestingly, many alumni are interested in general studies classes as well because even in college, many alums find that their classes are not the same."
More from this Journalist