Jewish Pride: No Hate. No Fear. Solidarity March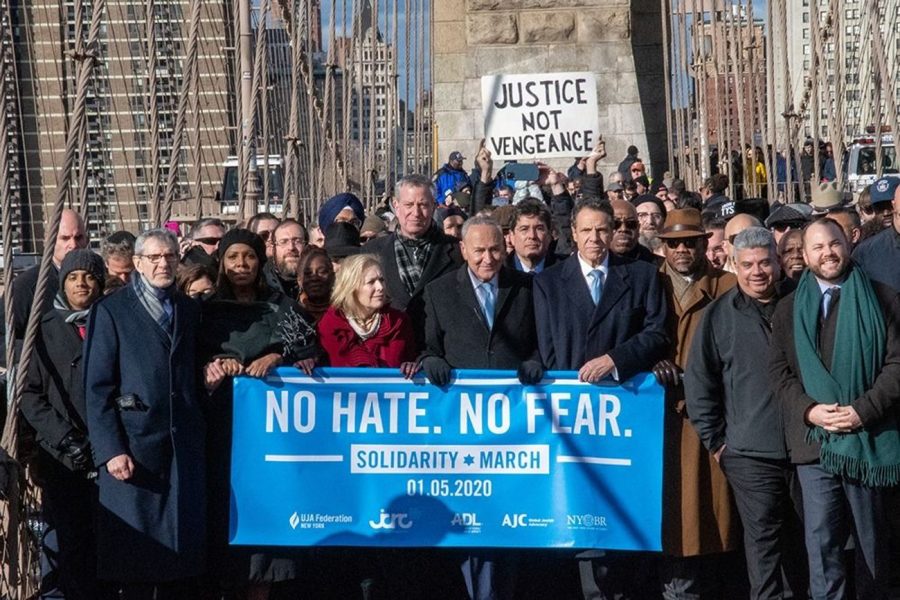 Almost every night of this past Chanukah, as Jews lit the candles, they prayed that the antisemitism would be over. However, every night, new headlines appeared: "Five Jews stabbed in Monsey home," "Jew beat up on NYC street," "Jew harassed on the subway." For the past few months, antisemitism has been on the rise in the New York/New Jersey area. These attacks shocked the tri-state area and left citizens confused on how to react. It felt like this wave of antisemitism would never end. In response, the Jewish community came together to declare that this form of hate will not be tolerated. 
On Sunday, January 5, approximately 25,000 people, Jews and non-Jews alike, marched with the UJA Federation in the "No Hate, No Fear Solidarity March." The rally was sponsored by many different organizations including the Jewish Community Relations Council (JCRC), the ADL, the AJC, the New York Board of Rabbis, and Brooklyn Borough President Eric Adams. With tremendous police supervision, the crowd walked across the Brooklyn Bridge to Foley Square to declare their right to pray in synagogues, celebrate holidays, and wear a kippah on the street without fear.
Ramaz, always at the forefront of Jewish activism, was quick to urge students and their families to attend this event. At a full-school davening on the Friday before the event, Rabbi Steinmetz spoke about the importance of being proud Jews and standing up for ourselves. In the past year, there has been more antisemitism
in America than ever before. Rabbi Steinmetz emphasized that it is important to not be afraid. He said that the Jewish community needs to stand up and declare: "Ani Ivri!" Jews need to be loud and proud, stand united together, and support one another. On Shabbat morning, Rabbi Steinmetz gave a similar lecture to the KJ Community, stressing the importance of the march to parents and grandparents. 
Additionally, the Ramaz Leadership Team sent out an email to inform parents and students about the event. "For the last week and a half, there have been attacks against Jews in the New York metro area on an almost daily basis. It is time to say enough!" the email read. "We can't just shake our heads when we read about another attack on Jews; we must take action. We can defeat this, if we stand together." Although students were repeatedly urged to attend the event as a vital expression of the school's mission, the plan did not include a central place for students to meet and march as a school. Rabbi Stochel, who was at the march, explained, "We thought of it as a family and community event held on a Sunday and not during the school day. We wanted families with children of all ages to march together, demonstrating the urgency of the march across generations. And it was quite moving to see grandparents, parents and even small children in strollers and baby carriers joining on a cold winter day."
On the day of the rally, in the freezing weather, thousands arrived. For three hours, Jews marched across the bridge, breaking out in song and dance. One group, The Jewish Federation Against Hate, brought a marching band and dance troupe to express their Jewish pride. Overall, the energy on the bridge was hopeful and motivating.
After crossing the bridge, the crowd gathered in Foley Square to listen to speeches. "Today we are all Pittsburgh, we are all Poway, we are all Hasidim, and we are all Jews, and we are all American," proclaimed Devorah Halberstam, an Orthodox Jew who is fighting for her son's 1994 murder to be recognized as an act of terrorism. Other Jewish speakers shared similar messages. They declared that the Jewish people were united and would not stand to be persecuted. Matisyahu, an American Jewish singer,
sang his song "One Day," expressing a prayer for peace. "Stop with the violence, down with the hate," he sang. Additionally, many of the speakers were political figures. Governor of New York Andrew Cuomo stated, "What has happened in Brooklyn, what has happened in Monsey, NY, was an attack on every New Yorker, and every New Yorker has felt the pain." He announced that New York State would give an additional $45 million to protect religious institutions, including religious schools or cultural centers. State police would continue to closely watch neighborhoods with large Orthodox populations. Also, a new tip line was put into place for people to report potential hate crimes. 
Antisemitism in America affects all Jews, from Charedim in Monsey to Reform Jews in Pittsburgh. Therefore, many Jews and non-Jews from various backgrounds attended the march. Much of the turnout was by non-affiliated, Reform, and Conservative Jews. Diane Reiser, a 74-year-old Reform Jew, explained, "I am a Jew, but I would be here even if I wasn't because I am also an activist. I have struggled for the last three years with the question: What would I have done if I was a German during the Holocaust? Would I have helped save the Jews? I have come to many demonstrations. I support Muslims and immigrants. I am setting an example for my grandchildren." 
As a result of the Ramaz/KJ community's endorsement of the march, many Ramaz families arrived with their young children that Sunday morning. Ramaz parent Jennifer Yashar said, "I came with my children to show that we will not stand for antisemitism or hate toward any group. The emails and Instagrams motivated me and others to come." Daniela Niditch, a former teacher at the Ramaz Lower School, explained that there was in fact some debate between parents about whether this event was appropriate for children. She said, "We want our kids to live in a bubble and believe everything is good and safe. But, I brought my daughter and told her that we need to show that we are proud Jews, regardless of who doesn't like us. Just seeing the magnitude of people who are here is so overwhelming and beautiful, even if she doesn't really grasp the severity of the event."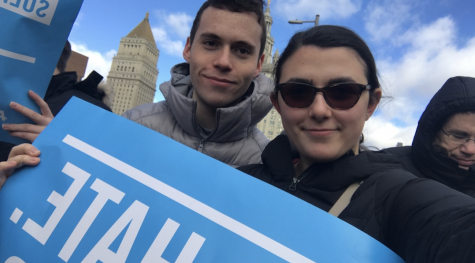 With growing antisemitism comes blame. Some of this political debate was represented at the march. Some accused President Trump for this new wave of hatred. Signs read "impeach Trump!" or "Trump has unleashed hate and violence." According to Reiser, "The leader creates the atmosphere. Trump made it acceptable to act with craze and created a place for hate in our society." Others blame the governor and mayor of New York, as this rampant antisemitism has its core in the New York area. Niditch said, "I blame political figures in the New York area for not taking a stronger ground against antisemitism." 
Another issue raised is the question of how to protect against this hate. Niditch said, "Criminals should be jailed and must show up to hearings without being offered rewards. It is no longer a scary thing to commit crimes of antisemitism. That is the problem." On the other side of the spectrum, the Care Not Cops Contingent came to the event, handing out their flyers. Rosza Zushuk, who describes herself as a fourth-generation secular Jew, said, "I am really distressed with the response I have seen coming from large Jewish nonprofit organizations. Police and jails are not the solutions to antisemitism. Instead, we need to confront those who are spreading antisemitism. This starts with the president. We are seeing that he is spreading antisemitism and we need to stop it. This is a slow and complicated process, but it is necessary."
Despite the recent attacks on ultra-Orthodox Jews, few of them were actually present at the march. According to Jacob Kadoe '21, who attended the rally, "This affects all Jews, so it is important that the ultra-Orthodox show up. We need to represent our strength." Of the ultra-Orthodox who did attend, many of them were from Chabad. Noach Kane, a member of the Chabad in Crown Heights, said, "If anyone would think that there should be more visibility of ultra-Orthodox Jews, I would respond that in Chasidic communities, their whole life is a Jewish pride march! When they go to the DMV, when they go to the grocery store. They do not need to be together with signs to show that they are proud to be Jewish!" Alexander Rapaport, Executive Director of Masbia, a kosher soup kitchen, attended the rally with his brother Yosef. The two Chasidic brothers were holding signs that read, "#MeJew Don't wait till we are dead, show solidarity with our way of life." Yosef Rapaport said, "Of course I feel a unity with all Jews, but you shouldn't react only when Jews are killed, you should support Jews who ar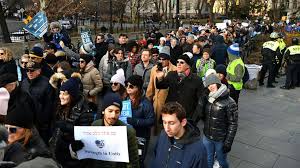 e living visibly Jewish and are prevented from doing that. When the New York Times blames the ultra-Orthodox for measles, UJA Federation sits silently. The Chasidic community is blamed, and nobody stands up to support us."
It is important to note that while this rally was against antisemitism, there were non-Jewish activists who came out to support the Jewish community. Fatima Dia, a fourteen-year-old black Muslim girl, said, "I have already experienced hate and discrimination from the time I started to wear my hijab. Today, I am here to show that no form of hate is acceptable." A large contingent from the Catholic Church of St. Francis Xavier also came to show their support. Cathline Cagnine said, "We are all a family. We will be here and [Jews] can rely on us. We are not here for political reasons, rather to show that we are here for all humanity."
On January 5, the Brooklyn Bridge overflowed with people. Some were in strollers. Some used canes or wheelchairs. Some wore kippot. Some did not. Some had payis. Some  had pink hair. Some wore crosses or hijabs. Some blamed political figures. Some blamed the police. Some sang in Hebrew. Some in English. Some played the drums. But, every person stood in solitary to declare: I will not stand for antisemitism.
More from this Journalist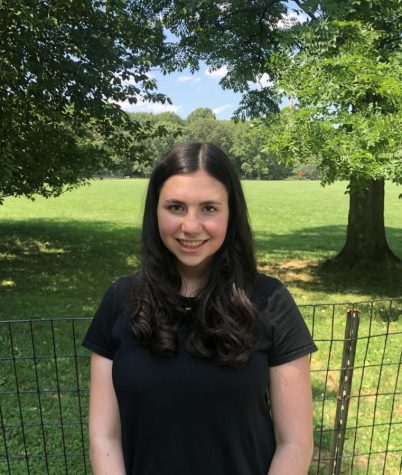 Rebecca Massel '21, Editor-in-Chief
Rebecca Massel has been a journalist since lower school and is excited to be an editor-in-chief of The Rampage. She has been an active writer for the paper...