My Fear of the Anti-Semitism Rally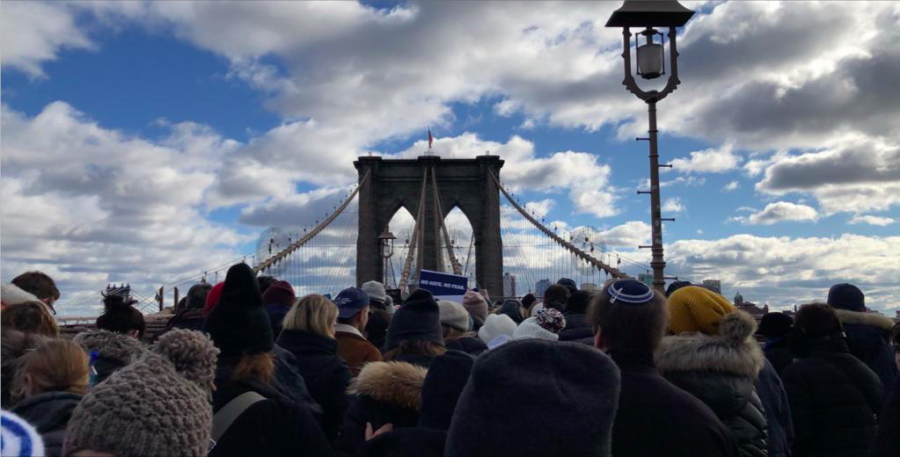 On January 1, 2020, as 90,000 Jews gathered to celebrate the 13th cycle of completing daf yomi with a Siyum Hashas at MetLife Stadium, thousands of others read a New Year's Day editorial in the New York Times titled, "It's an Old and Insidious Hatred. And New Yorkers Can't Stand for It: A show of support for the true spirit of New York." The article called attention to the fact that of the 421 hate crimes reported in New York City in 2019, more than half were directed at Jews.The Times suggested: "How beautiful would it be to see thousands of people, Jews and non-Jews alike, walking arm-in-arm through the streets of Brooklyn?" 
This statistic and call to action felt extra-loaded, just days after what is now dubbed the "Hanukah Stabbing," the 10th atrocious anti-Semitic attack in the tri-state area within just a couple of months. Jewish activists took the cue, decided enough was enough, and organized a rally against anti-Semitism. On Sunday, January 5th, thousands gathered to speak out against hatred. Ramaz strongly encouraged students to attend and be present as active members of the Jewish community. 
This sudden call to action made me think about a lot of things. Although none of the anti-Semitic attacks took place on the Upper East Side, I had already been walking around the city in fear, especially over the past few months. I don't feel comfortable wearing my kippah on the street anymore. (I once did.) That's why when I heard about the rally, I didn't want to attend. My first thought was, "Seems like a great idea, gather all the Jews in one place to make it easier for the people that hate us to kill us." Nevertheless, though I tried to find a way to get out of it, none of my lame excuses worked,  even studying, and my parents made me go. 
As we walked up to Foley Square, I was amazed at how many people actually showed up, including many marchers who were not even Jewish (and carried signs that represented other religions). All of these people took their time on a cold Sunday morning, at last minute's notice, to show they care about anti-Semitism. Their presence actually consoled me and made me feel more secure in knowing that not only those of us who regularly express our Judaism in a public way—by wearing kippot and entering Jewish schools, synagogues, kosher restaurants and other places where we would be targets—felt so strongly about defending our faith. As much as I noticed the non-Jews at the rally, the absence of ultra-Orthodox Jews was glaring. In the sea of hundreds surrounding me, I couldn't spot anyone who was outwardly identifiable as ultra-Orthodox. I must say, that surprised me. One would think that as the targets of so many of the crimes and a group that can be instantly identified as Jewish, they would have come out to protest against the hate. 
However, then I realized that they already had their own march on January 1st. By gathering together at MetLife Stadium, they had already said, "We aren't scared; we are here and a powerful mass who will never stop outwardly expressing our Judaism." We all fight anti-Semitism in different ways, whether by rallying against hate or celebrating the completion of the learning of shas. Attending January 5th's Solidarity March was a way of showing that we aren't scared, and we will show our pride together. 
More from this Journalist