'For the First Time in Forever'- A Win For Ramaz At YUNMUN
The Ramaz Model United Nations team returned to the Crowne Plaza Hotel in Connecticut to participate in the 30th annual Yeshiva University National Model United Nations (YUNMUN) conference, ready to take on the challenges they would soon face in their committees. 
Organized by the student body of YU for three decades, YUNMUN is a conference attended by over 400 students every year that allows them to learn public speaking, social, political, and diplomatic skills in a fast-paced and exciting environment that deals with modern problems. Yeshiva-day-school students from all over the country, from South Africa to Brazil, all attended the conference, which gave American students a chance to build relationships with international students. "I really feel like [the conference] emphasizes the importance of group collaboration," said Eric Kalimi '22. "It makes us more aware of the social issues the world faces." 
Schools are assigned countries to represent their delegation, and each delegate is assigned his or her own committee, such as the Security Council (SC) or Human Rights Campaign (HRC). A representative of his or her own committee is then tasked with researching that committee's topics thoroughly and presenting them to the committee from his or her country's point of view. 
This year, Ramaz represented the United States of America, which was a contributory member of every committee due to its prestigious status. At the conference, the U.S. played a major role in drafting and passing resolutions, which was key to solving crises facing the global community, such as the issue of nuclear weapons in the Middle East.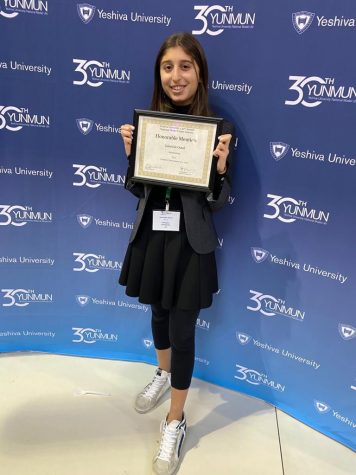 The event began with the opening ceremonies, where Secretary-General Moriyah Schick spoke about the importance of the issues that would be discussed in the committees. "Committees that convene in the UN that can defuse a crisis need to be able to have a form to talk it out—to gain perspective. Issues like climate, health, education, and poverty. Issues that can be discussed and acted upon to improve life. We [Yeshiva University] believe in fixing the world."
During the closing ceremonies, the Ramaz delegates anxiously awaited the results of their committees. Delegates would be judged on how well they spoke, worked with others, and created resolutions. From the team of 10 delegates, Gabby Ostad '21 won the honorable mention for her committee, the first time the  Ramaz Model UN team has won something in four years. 
"Breaking the Ramaz losing streak was as much a personal victory as it was a victory for our team and Ramaz," said Ostad. "It was a reflection of the hard work we all put in throughout the year." 
Victorious, the team went back to the Ramaz building proud of themselves and their teammates, looking forward to next year's conference.