Elie Tahari Brings Fashion To Ramaz
The newly-founded Persian Culture Club was honored to welcome world-renowned Persian Israeli Fashion Designer Elie Tahari on January 29. The meeting was well attended by faculty and students alike. "The room was packed with students and teachers," said Adam Horowitz '21. "People did not just come for him, but also for his knowledge and insight." Tahari's welcoming demeanor and warm persona made everyone excited for the event. He greeted each student at the door, but that was only the beginning of the interactions that would be held between him and the audience.  
Elie Tahari was born in Israel, but at a young age moved to Iran, where his family was originally from. He later returned to Israel and then spent a short time in Europe before moving to the United States in 1971 with only 100 dollars in his pocket. After a string of odd jobs in the US, Tahari found himself doing electrical work in a fashion boutique. This exposure to the fashion industry led Tahari to create the iconic tube top. Tahari soon became a well-known name in the fashion world. His brand, Elie Tahari, has since developed into a high fashion brand, with more than 600 stores in over 40 countries. According to Horowitz, "Having the opportunity to hear someone's experience who had to create their life from nothing and how that has influenced the way he lives his day to day life was intriguing."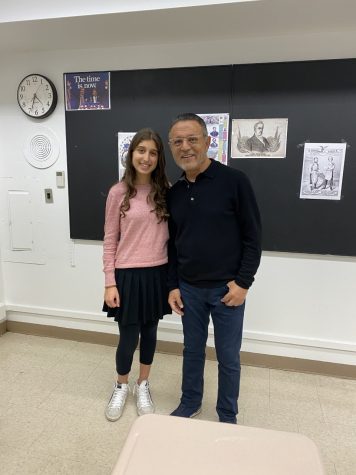 Tahari spoke candidly about the successes and obstacles he has faced throughout his career. During the Q&A, Tahari answered questions ranging from his upbringing to the proudest moments of his career. He emphasized the role Judaism and its values have played in his life. One of the teachers who attended the club's meeting, Ms. Landau, said, "I think it was extremely valuable for students to hear from someone who is successful in business and super creative, but also at the same time extremely proud of his Jewish heritage and his connections to Israel and Persian culture." Tahari credits the United States of America for enabling him to reach such heights with his business, but he says that Israel is and always will be his true home. In 2014, he was honored with the Ellis Island Medal of Honor which pays homage to the immigrant experience and the contributions they have made to America. Recently Elie Tahari was a judge on Project Runway All-Stars. 
Beyond learning about Tahari's great accomplishments, for some, this event was a time for them to meet great fashion role models. Rina Marlowe '20 expressed, "I have a true love for fashion. I have my own blog where I post outfit inspirations to share with others. I am inspired by Tahari's work, and it was an honor to meet one of my fashion idols."
More from this Journalist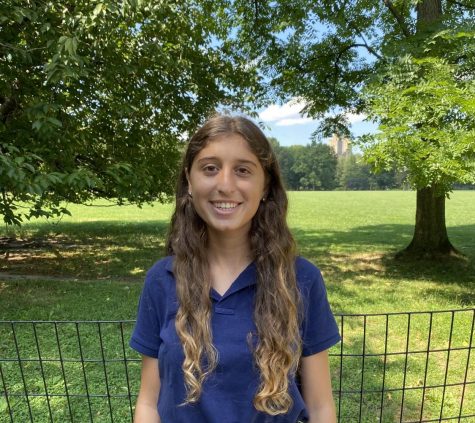 Gabby Ostad '21, Editor-in-Chief
Gabby is so excited to be an Editor in Chief of The Rampage. Gabby began writing for The Rampage freshman year and has been an integral member of the paper...