How are Clubs Coping with Coronavirus?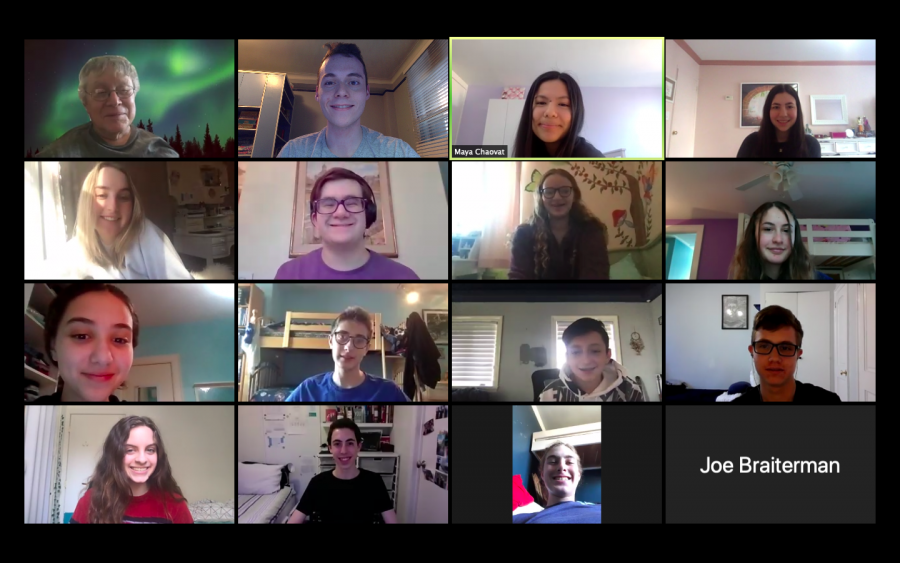 A typical day at Ramaz used to include academics balanced with innovative clubs and sports teams. School would not be the same without the countless extracurriculars and clinics offered to students each day. Navigating a new online learning system through Zoom poses difficulties for classes. As teachers and students are beginning to adapt to remote learning, classes have become smoother, and the technology has become more intuitive. However, transitioning interactive clubs, such as sports and dance teams, to an online format has proven very difficult to navigate. Spring sports seasons have been suspended indefinitely, and it remains unclear whether games will resume this year. Delays and glitches in the technology make it nearly impossible for clubs like choir and chamber choir to practice singing as a group. Numerous concerts, conferences, trips, and games have all been cancelled due to the novel coronavirus. 
Adapting to life on a screen, clubs have continued to meet virtually despite challenges and modifications. Choir and chamber choir are meeting virtually each week and practicing in small breakout groups. Elizabeth Newman-Corré '20, one of the choir presidents, explained, "It's very different from what we usually do, obviously, because the Zoom technology isn't quite good enough for forty people to sing simultaneously. We meet for about the same time in total, but the voice parts separate into breakout rooms, and Mr. Henkin works for fifteen to twenty minutes with each group." It is difficult to sing in sync on Zoom because of lags, so it's difficult to sing as a group; therefore, people must alternate singing individually. The new method of singing through Zoom is unfortunately very time consuming for singers as they have to listen to each member of their group perform for Mr. Henkin. Due to the coronavirus, the choir had to cancel numerous concerts, including a fundraiser for the organization Kolot. Most recently, Mr. Henkin assigned each vocal group selections from "Heaven" by Live and compiled the recordings on GarageBand to create the full song. A group of choirs within the Yeshiva League is also planning to release a compilation of "Lean on Me" by Bill Withers. The creative collaboration and dedication of choir members has allowed the new method to continue entertaining families in isolation. 
Unlike choir, Model Congress was unable to find an online solution to compete nationally. When the Penn Model Congress conference, scheduled to take place at the end of March, was cancelled, the team was suddenly done for the year. Practices throughout the year had been geared toward the Penn conference, and hours of team preparation were spent training for the competition. Josephine Schizer '20, one captain of the Model Congress team, described the team's frustration and disappointment. "It's really sad because everyone on the team has worked really hard to prepare, and we were excited to go to the conference and see all of that pay off. For the seniors, this was the last shot at awards, and we were really hoping to win a delegation award this year. It's also a really fun trip for the whole team together." Most years, the Model Congress team only attends this one conference and prepares for it all year, but earlier this year, part of the team participated in the Princeton Model Congress conference as well. Schizer added, "I'm glad that we at least had the chance to go to one conference this year even though we're missing the Penn conference." It's unfortunate that the Model Congress team members were unable to see the fruits of their labor, but right now the team is focusing on planning tryouts for next year's team, which usually occur in April or May. 
Hockey, one of the most popular sports at Ramaz, is suffering the consequences of the coronavirus. The girls' hockey team, last year's semifinalists, started off their season with a 10-2 win against SKA. This year, they hoped to make the championships. With numerous games cancelled throughout the month of March, the season has been suspended indefinitely. Hannah Doft '20 explained, "The seniors have been waiting for this season since we were all freshmen. We actually thought this was the year we had a really good shot at winning the championship." The athletics department plans to reevaluate the situation after Pesach break and will determine the status of the season. Teammates are encouraged to stay active throughout the break and practice skills at home in hopes of a return. The boys' hockey team began the season with a power ranking in eighth and entered the Yeshiva League tournament as underdogs. After beating Frisch, Kushner, and Northshore in the playoffs, the Ramaz team secured its place in the championship against DRS. Originally scheduled to take place on March 15, the championship has been postponed until further notice. EJ Singer '22, goalie of the Ramaz Varsity hockey team, asserted, "After being on a good winning streak, I hope this time off does not impact the quality of our championship game." He added, "I know the boys are working hard at home and will secure the win for the Rams."
Physics Club has adapted and transitioned rather smoothly to the Zoom remote learning system and continues to meet online each Thursday for an hour. The club had been working on a double pendulum in person, which will likely be delayed and will be continued next year. Captain Akiva Shlomovich '21 noted, "I wouldn't say that we are more or less effective, I think it's just a new style of communicating. Online meetings have made presentations a bit easier with the screen sharing option, but overall it's pretty much the same." The complications arise when scheduling and coordinating meetings that require a different Zoom link each time. Shlomovich explained, "I still send out emails and Schoology notifications, but ironically, I feel as though people are checking those less." The bombardment of Schoology posts and emails from people throughout the school day often make it more difficult for students to locate the correct link for each class and arrive on time. Most students agree that in-school, interactive learning and club meetings are ideal. 
A variety of clubs have been affected by the closure of school and have adapted to the unique circumstances. Persian Culture Club, a recent addition to the Ramaz collection of clubs, was initiated right before Chanukah. The club has had meetings more frequently since social isolation, but for shorter periods of time. Gabby Ostad '21, explained, "The club has always been a place where all members interact with one another. I feel this environment persists on Zoom." Business Investment Club (BIC) has also adapted to online meetings. Most recently, the club hosted Jake Doft who presented about investing during the pandemic. The focus of the meeting was related to coronavirus and the club has made efforts to relate current events to business investments. 
In order to raise student spirits and keep students entertained and during a time of isolation, Library Movie Night, led by Mr. Deutsch, has continued virtually. Students enjoy voting on a movie and watching together through Netflix Party. Netflix Party allows students to watch the same movie simultaneously, while commenting and chatting with viewers. Movie night coordinators even encourage students to bring their own popcorn! 
Although the world around us is changing, Ramaz students have managed to maintain a sense of normalcy by pursuing their clubs.