Virtual Celebration of the Arts is Alive!
Artwork lined from floor to ceiling, the band plucking tunes on the perimeter of the room, murmurs of guests wafting through the aisles: Ramaz's annual Celebration of the Arts is a culmination of the year-long student investment of time, genius, sacrifice, and commitment in music, writing, visual art, and photography. "This is the opportunity to showcase pieces we have been working on throughout the year to our fellow students and the larger Ramaz community. This night is filled with innovation, creativity, and collaboration," said Esther Cabot '21. The program is usually held in the evening on the last day of classes before finals, and it is consistently a highlight of the academic year. This spring, however, "Celebration" (as it is commonly known), will be held online via Zoom. Although this night of imagination and talent will be viewed through a different medium, it is sure to be a smashing success. 
When approaching the production of this event, Oded Lev-Ari, Artistic Director of Celebration of the Arts, explained that "we had to look at what artistic expression at Ramaz is like when we are not together." Every aspect of this program is being prepared from home; this includes musical performances by individual students, groups of students, the Ramaz Band, and Guitar Ensemble, poetry reading from members of Parallax, and lots of artwork. Students prepared videos of their pieces, and the recordings will be compiled into a video for each act. Like normal performances at Celebration of the Arts, many students are collaborating for their performances, with students singing with instrumental accompaniment from their peers. A large group of seniors is coming together to organize a collaborative farewell performance of the song "Memories" by Maroon 5, with students singing, playing instruments, and dancing together, all compiled virtually. Lev-Ari affirmed that "the collaborative process is still being maintained online. Even though we are in quarantine, we have an outlet for the students to play and sing, because the student creativity does not stop."
A highlight of Celebration of the Arts in person is the opportunity to witness the artistic talent of Ramaz students. The walls of the school auditorium and lobby are adorned with paintings, sketches, and photographs all by our students. Guests are greeted with artwork that "really transforms the physical space," said Lev-Ari. This will still be possible, as a thirty-minute pre-show montage will exhibit artwork that has been created both in school and during quarantine. Various visual artists will display and explain their pieces during the program as well. This year's Parallax literary magazine will be available virtually during Celebration of the Arts for all to read and will be available in print in the fall. 
Celebration of the Arts is run by students, for students. The Visual Arts Curators Committee is responsible for collecting all student artwork for the montage. A member of the committee, Anna Braun '22, said, "Celebration is something everyone can be excited about; whether you are contributing or just tuning in to watch, this is something to look forward to. Celebration is also a Ramaz tradition and I am happy that we can still hold this event, even under quarantine." 
Many students are showcasing pieces they hope will resonate with the audience, and help them to cope with the overall sense of uncertainty and stress to which everyone can relate. Sometimes, the best way to spark a connection among people is not through words. For example, Ron Alweiss '22 will be performing a solo piece entitled "Boulevard of Broken Dreams." According to Alweiss, "This song is all about loneliness which should strike a chord with many during this pandemic. I want the audience to feel that we are really alone together. I have been listening to music as a way to cope with the stress and anxiety of these difficult times, and I hope Celebration of the Arts will similarly resonate with others." 
Others will be utilizing their artwork as a means of reflecting emotions in people. Fortune Laboz '22 considers art and music to be "forms of escapism." She explained, "These can be representations of the times that we are going through. The artwork is like a personal history." One of the pieces she will present is a self-portrait made from string, called "The First Isolation." It represents the mental effects of the coronavirus, and shows her pulling out her hair. "I chose string as my medium, and I am representing the feeling of anxiety and being overwhelmed. I want the audience to view this and realize that we are all going through the same thing; we are not alone, and we are struggling together." Students are utilizing the arts not only for self-expression but also for uniting others. This night may encourage more students to engage in art and music as a means of a personal manifestation of dreams, thoughts, and creativity during quarantine. Rebecca Massel '21 said, "I would like my art to resonate with both artists and nonartists. I advise others to begin projects one can expand on, such as doodling on a napkin or post-it note. Small exercises like these can really spark something." 
Celebration of the Arts will be held on Thursday, June 11. We all anxiously await seeing the creative minds of our peers come to life. This Celebration is, of course, virtual. It is also very artistic and imaginative; changing the media and venue is just another extension of the great pool of creativity that we can tap into at Ramaz. Tune in to see Ramaz students' artistry at work.
More from this Journalist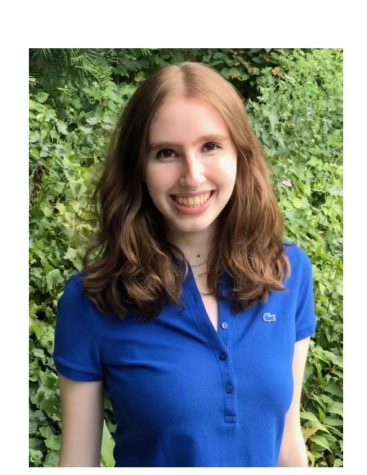 Samantha Sinensky '21, Editor-in-Chief
Samantha is a passionate journalist and loves writing for The Rampage because it is a window into the life of the student body that honestly reports true...