Farewell Tribute to Rabbi Slomnicki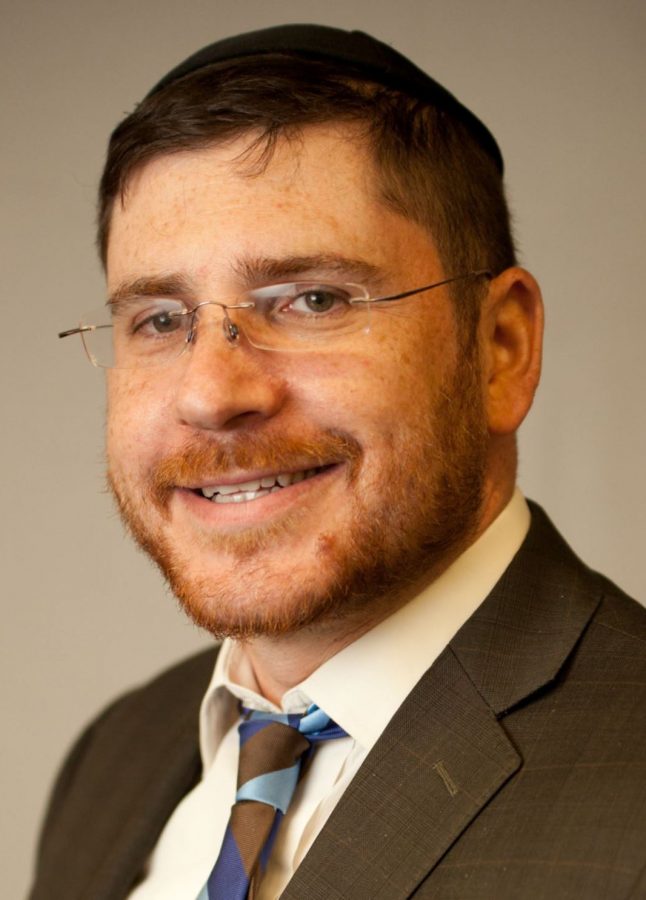 William Kremer '20
June 8, 2020
When the school doors (potentially) reopen this fall, Ramaz will be missing a key player. On May 26, Rabbi Stochel announced that Rabbi Eli Slomnicki, Dean of Students, Junior Grade Dean, and a freshman advisor, will be leaving Ramaz to become the High School Principal of the Hebrew Academy of Nassau County (HANC).
Rabbi Slomnicki began his 10-year stay at Ramaz as a Judaic studies teacher and then, after a two-year hiatus, returned as a coordinator of the Israel Guidance Office, before assuming his current position as Dean of Students. "As a thought leader promoting the ideology and mission of Ramaz, and as an advocate for student life both as an administrator and as Junior Grade Dean, Rabbi Slomnicki has invigorated the school culture and climate at the Upper School," shared Rabbi Stochel.
Throughout his time at Ramaz, Rabbi Slomnicki has made an effort to create personal relationships with individual students. "I am truly proud of being part of an administration that has focused on students, their well-being, and advancing the mission of Ramaz," he said. The motivation to create close connections with students stems from his experiences attending HANC High School himself, which is also known for its deep warmth and focusing individualized attention towards students. Jake Slochowsky '21 expressed his gratitude for Rabbi Slomnicki, commenting, "He made my junior year, and really all my years of high school experience, incredible." 
As Dean of Students, Rabbi Slomnicki worked to increase school spirit, promote positive energy in the building, and maximize the student government's impact. Together with the G.O. and Rabbi Pianko, he organized spirit days and pep rallies, fan buses for sports games, special breakfasts and treats, and community assemblies. Aaron Zanger '21, junior class president, worked with Rabbi Slomnicki first hand and is grateful for "the warm environment he brings to the school." Zanger also praised Rabbi Slomnicki for promoting smaller clubs and helping them launch student-led initiatives. 
Rabbi Slomnicki is well known as an avid fan of Ramaz sports, and many students will miss going to his office to recap the previous night's games and chat about Yeshiva League sports. Although he will not be around to see the continued growth and momentum of the Ramaz Rams, he is "excited to see the fruits of the athletic department's labor" and expressed his optimism that "Ramaz, in a very short time, will be the powerhouse in yeshiva athletics." Rabbi Slomnicki would even bring sports lingo to full school assemblies when emphasizing on numerous accounts that the "Ramaz students are the all-stars of the Yeshiva League." Spencer Rubinstein '21 felt a close connection to Rabbi Slomnicki through basketball. "Talking about sports with Rabbi Slomnicki in the halls, at lunch, or in his office is definitely going to be one of my favorite memories of high school, and I'm so sad that I never even knew that the last conversation we had about basketball was going to be the last." 
When the Varsity Basketball Team attended the Glouberman tournament in Los Angeles, Olivia Sakhai '20 was impressed with Rabbi Slomnicki's enthusiasm and dedication to making the trip memorable for the Varsity Teams. "'Chill mode' was not expected, but so much fun," she said. "No one knew what to expect going to LA for the first time as a basketball team, but Rabbi [Slomnicki] truly exceeded all expectations of the trip. He made the trip about us and what we enjoy doing."
When asked what he will miss the most, Rabbi Slomnicki responded, "It's hard to answer what I will miss the most. I will miss many things…I will miss the small moments of growth that a teacher witnesses through the regular grind of a day. I will miss observing heated debates among faculty and students. I will miss the challenging attitudes that students have when they feel we as a school have not lived up to the lofty standards of Ramaz. In short, I will miss the energy and the aspiration that are synonymous with Ramaz." 
In Rabbi Slomnicki's final message to Ramaz students, he said "I am proud to have been with you and know that I will see tremendous nachat from you as we, please G-d, stay in touch."
We wish Rabbi Slomnicki tremendous success in his future endeavors and look forward to seeing him again when he visits the building. 
Rabbi Slomnicki has provided his personal email should anyone like to contact him or keep in touch: slomforty1@gmail.com