On Wednesdays We Wear Pink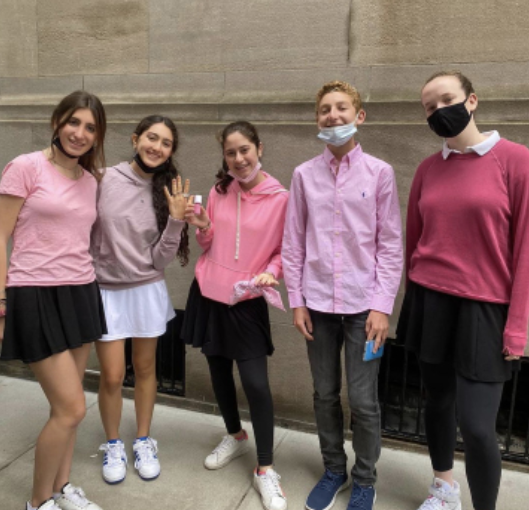 On October 9, Ramaz wore pink. 
The month of October is Breast Cancer Awareness Month. The G.O., Rabbi Dov Pianko, and Ms. Haas all worked together to take a day to raise awareness. They planned this day throughout September. Ms. Haas explained in an interview that they decided to have Pink Day at the beginning of the month because there are going to be different events during this month to spread awareness. They wanted to set the tone for how students are going to interact with social media posts regarding breast cancer and the opportunities the school will be offering. The G.O. wanted to do something special this year. In a meeting, they discussed that they wanted to order different sorts of (pink) merchandise, sell them to students, and donate the money to an organization. With much back and forth, they decided to order pink bows, bandanas, necklaces, bracelets, kippas, and tutus for the entire student government. They purchased these items to boost school spirit as well as raising money for Sharsheret. Sharsheret is a national non-profit Jewish organization that services women and men, both Jewish and non-Jewish, who suffer or have increased genetic risk for breast cancer or ovarian cancer. 
  Sharsheret provides both emotional and physical support and utilizes social workers to assist those who need the service. They do a lot of work in prevention and save lives through their education outreach. Ms. Haas explained that they are in the process of developing a curriculum in schools as a mini-course for people to learn about helping their bodies, early detection, and how to help their family members. The reason breast cancer gets so much attention is because for many people it is preventable.
Ramaz had an amazing turnout and almost everyone wore pink. The boys were wearing the kippahs and the girls were wearing bows. But, just as Norma Mattout '22, Associate Vice President of Student Life, said, "Although the whole day was fun and exciting, its real purpose was to raise awareness for the people around us that this day means so much more."
"Breast Cancer awareness is the more noise we make about it, the more lives that will be saved," said Ms. Haas.