Interview with Dr. Liebert (West Point)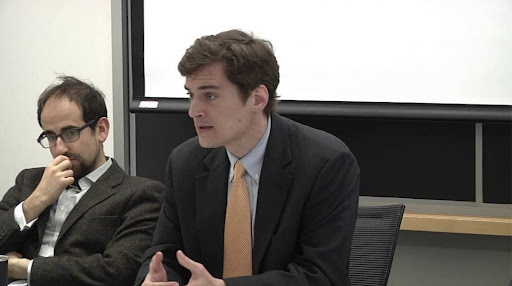 Dr. Hugh Liebert is a professor at West Point Military Academy. He teaches an Introduction to Political Thought and Introduction to American Politics class there. He came to visit Ramaz and taught both of Dr. Tugendhaft's Classics of Political Thought classes.
Emily Vayner: Tell me a bit about yourself: What are your interests outside of teaching? Do you have any hobbies? 
Dr. Liebert: One of the nice things about teaching is that I get to do my hobby for a living. Apart from that, I love playing jazz on the Saxophone and I love to run as well. I also do some coaching for my kids' sports teams. 
Emily Vayner: Tell me a bit about teaching at West Point: Describe some of the courses you teach there. What are the student-teacher relationships like at West Point? 
Dr. Liebert: One of the classes I teach at West Point is an Introduction to Political Thought where we read Plato's Republic, study Machiavelli's works, and some other great works of political thought. I also teach the Introduction to American Politics and Government, which is a required course at West Point. I teach an advanced course called the State and the Soldier which covers civil military and relations.  
The student teacher relationships at West Point are very strong, we even have awards for them.  As a teacher, I am always available to my students and the classes are very small. We have very few lectures there, and a seminar table just like in the class I taught in today. Professors are encouraged to mentor their students outside of class and organize different trips for cadets. I would say it's an extremely tight-knit community. 
Emily Vayner: Why did you choose West Point to teach political science? Did you ever consider joining the military? 
Dr. Liebert: My dad was in the navy as a doctor when I was growing up, but I honestly never thought about joining the military. When I was looking for a job, West Point needed someone to teach politics. When I visited I became enchanted with the place for two main reasons. What stood out to me was the quality of the people there; the faculty and students. In addition to their high intellectual level, they had a set of life experiences and great character. The other thing that stood out was West Point's mission of leadership and character development— the idea that your actions reflect your true character. I found it refreshing to be able to have honest conversations with my students. 
Emily Vayner: What advice would you give to a Ramaz student applying to West Point? 
Dr. Liebert: I would strongly suggest visiting! For people who are well suited to it, it's an extraordinary institution. I like to say that this period of time is how you choose to spend your twenties. West Point is an elite education that is challenging in many ways and requires a very high level of responsibility. Besides for the challenging four years of education, you will be sent out as lieutenant in very challenging spots where you are taught to discover your own character.  
Emily Vayner: Did you enjoy your guest lecture at Ramaz today? What did you teach? Were there any moments today that stood out to you?  
Dr. Liebert: The students are brilliant! I taught Plato's republic to Dr. Tugendhaft's classes and I enjoyed it very much. The students clearly understood the text very well and it was honestly awesome. I recall my most recent conversation about how even if a city is viewed as peaceful to other cities, it still has to worry about order breaking down internally. It teaches us the importance of the police force in addition to our guardians. Another student commented that the guardians in Plato's Republic are similar to the Jedi in Star Wars!