Ramaz Goes Remote Days Before Winter Break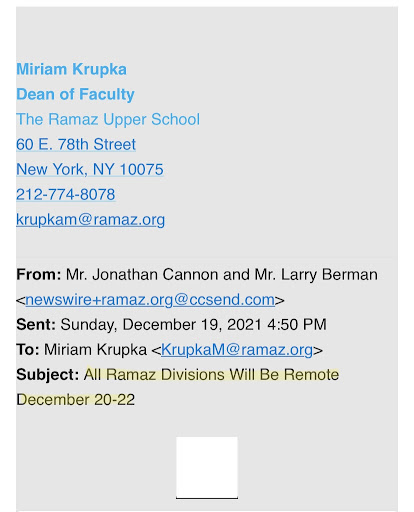 As Winter Break neared, and COVID-19 cases spiked among the students and faculty of Ramaz, rumors of Zoom school returning for the week of Winter Break began to spread. And finally, on Sunday evening, December 19, the Ramaz community finally received an email informing them that "starting tomorrow, Monday, December 20, through Wednesday, December 22, all divisions of Ramaz will be learning virtually." Although the virtual learning only took place for three days, it was not at all an easy decision for the administration to make. 
Discussions about possibly going virtual before break was division wide, and began toward the beginning/middle of December. At this time, the heads of all three divisions noticed a huge spike in cases in the Upper East Side, and especially within the younger divisions of Ramaz, as more and more unvaccinated students and faculty got sick. Ms. Krupka states that due to these circumstances, the administration decided that "we didn't want everyone to be sick going into vacation and there was just a fear of how quickly and how fast this was spreading, and so maybe it made sense to let people sit it out at home for a couple of days." Although the Ramaz community received an email on Thursday night stating that school might close down, the reason why it took until the night before in order to finalize that decision is because the administration was essentially "doing everything they could to not close. Sometimes when trying to push for the opposite outcome we wait and wait and wait until it is finally time to give in," according to Ms. Krupka. In addition, many students and faculty were waiting for their COVID-19 test results over the weekend, and it was not until Sunday that many of those results came in positive, and at that point, Ramaz decided that it was simply not worth it to stay open. There was also a feeling that the divisions should all close together, since many families rely on their older children to watch their younger kids.
For the first time since last year, Zoom school was up and running throughout all three divisions of Ramaz. Zoom classes ran according to the regular day schedule, except that first period and tefilah were swapped, causing the school day to begin at 8:58 instead of 8:15. In addition, all tests, except for the math tests, took place over Zoom. And yet again, every class page on schoology included a Zoom link at the top. Since the school became much stricter this year in only allowing students infected with Covid to Zoom, the majority of Ramaz students, including Claudia Dicker '23, felt that "returning to virtual learning for the first time in so long made me feel like I was back in March 2020." 
And for many students– especially those going away on vacation or planning on seeing friends and family– those extra few days at home ensured that their Winter Break would not be spent locked up in their rooms, surrounded by tissues and tylenol. But of course, Zoom school is not the ideal way to learn– especially when students are coming from a full three months of face to face, in class learning.  "I was definitely glad to be on Zoom, but after the first day I realized that it was just so much harder for me to focus and participate while learning through a computer instead of in a classroom" said Shira Shasha '23. 
Ms. Krupka admits that she is "not a fan of remote learning, and that the decision to close should be made only under very necessary circumstances… hopefully following those three days we won't have to do it again." In hindsight, Ms. Krupka feels that the decision to go virtual was right, but a lot of factors went into that decision, so "just because we did it once, doesn't mean we will do it again."