A Win for the Ramaz Robotics Team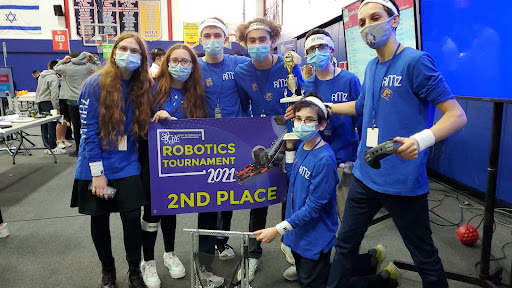 Ramaz wins again, and no, this is not a news article about a hockey game or the Varsity Girls Basketball winning streak, but the recent second-place win in the CIJE Jewish league by the new robotics team. This group, founded by Jeremy Propp '24, Adrian Rosenfeld '24, Liam Gomberg' 24 and Phillip-David Meadows '24, was started due to faculty members and students feeling that it was time for our school to have a competitive sector of its tech and engineering department. "We had friends from other schools who were part of teams like this and wondered why Ramaz was not," says Phillip, "we brought it to Dr. Rotenberg and Ms. Brachot's attention, and it seems that they were thinking along the same lines but needed student interest, and here it was." Although currently restricted to Sophomores and Juniors, due to meeting during 6th period lunch, there are bright horizons in its future. Nevertheless, back to what we all genuinely care about, Ramaz's robotics victory. 
"We didn't know what we would be walking into," says Liam Gomberg '24, the robot's driver, "but we are happy with our place, especially since it was our first time competing." Even Dr. Rotenberg, the faculty leader of the club, was not sure how we would fare since he had never participated in tournaments of this sort but was pleasantly surprised. 
CIJE, the Center for Initiatives in Jewish Education, runs the competition and sponsors many of the school's engineering programs, including providing the Tec department's Arduino boards. The head of the competition even came to school in the initial stages of building the robot to offer advice and suggestions for improvement. As team members, we can tell you that although initially figuring out what we were going to do and how was quite tricky, it was an exciting and rewarding experience. Jeremy Propp, who feels a sense of connection to the Ramaz PR team, felt that it very important to spread the word and gave out over 30 Ramaz Robotics stickers to kids from other schools, "Stickers are and aren't life, and they made us very likable to the teams we were defeating." About twenty-four other Jewish schools participated, and the Ramaz robot came out strong with a solid 3-0 win until the fourth quarter. Then the worst happened, another team, the Idea School, flipped the robot completely over, causing us to lose the next round by 0-20 and jeopardizing our possibility of qualifying for the final battle. "They flipped it, which was against the rules but no matter how much we explained this to the ref, he said it was legal since it was not their intention, but it messed with our place in the competition," says Liam. Stress and tension were running high trying to figure everything out. However, we made the finals by the skin of our teeth, and pure luck that other high-ranking teams lost their fourth round. Teamed up with Solomon Schechter Long Island, we squeezed a second-place victory.
There are two CIJE competitions every year, and the team is already gearing up for the next one. Each game is the same, with rings and goals set up on a plane, and the robot who collects the most of these objects wins. "Our robot kept getting its wheels stuck in rings slowing it down, so we are removing and changing its mechanics to be even more efficient," says Adrian Rosenfeld '24, who was in charge of the robot's hardware. Some team members, including Phillip, feel that the school should provide more funding to buy better equipment and move into a more serious league. "We have a lot of potential, and are working with the administration to expand and incorporate other aspects of engineering, such as machine learning, that would be used in higher level competitions." However, for the foreseeable future, Dr. Rotenberg believes that it is essential to let other grades participate, and next year there will be two different robots for the lunch periods, and maybe another for people who prefer after school. It's all about student interest and their level of commitment. The team looks forward to crushing the Idea School in the next competition and continuing its winning streak.