Reviewed: The Mule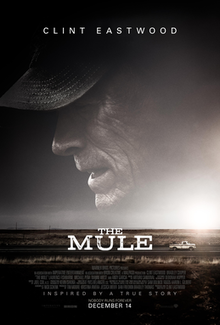 The Mule tells the remarkable story of Earl Stone (Clint Eastwood), an eighty year old drug mule. The film is based on the life of Leo Sharp, a World War Two (Korean War in the film) veteran who tends daylilies in his old age. Stone is distant from his family, his passion being his daylilies. He even misses his own daughter's wedding to attend a convention of horticulturists, where he revels in his own celebrity. Roughly a decade later, however, he is bankrupt and his farm is foreclosed. Desperate for money, and thanks to his lack of a criminal record and his old age, he is approached by members of the Sinaloa Cartel (Narcos: Mexico fans take note) to be a cocaine mule. Originally, he does not know what the packages he ferries contain, but soon finds out and continues anyway. Due to his success, he is entrusted with more and more cocaine, and becomes very wealthy. He is able to help pay for his granddaughter's wedding, and slowly begins reconnecting with his estranged family. However, his wealth comes at a cost, as it attracts the attention of DEA agent Colin Bates (Bradley Cooper).
Eastwood has proven himself as both an actor and director. While this is not his best work, it is a superb film. Though slow at times, Eastwood manages to portray a casually racist, or at least politically incorrect, Korean War veteran with a charm and ease few others could ever hope to. Perhaps that is because that was more or less his character in Gran Torino. Eastwood somehow makes the audience root for the character as he rebuilds his relationship with his ex-wife Mary (Dianne Wiest) and daughter Iris (Alison Eastwood), while forging an unlikely friendship with cartel enforcer Julio (Ignacio Serricchio). Stone proves surprisingly humorous, mainly because of his lack of a filter and his tendency to say rather politically incorrect statements, which often draws laughter from his Mexican coworkers. Throughout his journeys, he offers advice to Julio, telling him to destress and take time to experience what's around him. He also shares a poignant moment with DEA Agent Bates. The two run into each other in a diner, and Bates does not realize that he is speaking to the mule he has been searching for for over three months. Bates is frustrated after forgetting his wedding anniversary while chasing Stone, and Stone tells him to always put family before work.
Despite all that is good about his movie, it doesn't really go anywhere. The entire plot leads up to his eventual arrest. The film's emotional crux occurs when Stone, under strict instruction from the new cartel leaders (they had staged a coup that killed the previous, more lenient leader) not to deviate from his route on pain of death, he still chooses to spend time with his dying ex-wife. The movie just builds towards a somewhat flat, bittersweet ending, where Stone goes to prison but successfully rebuilds his relationship with his family. See it if you can, but don't be in a rush.
Leave a Comment