Sausage Party: The Brat Factory is a Carnivore's Paradise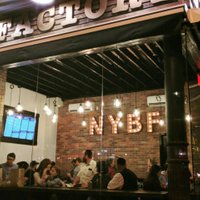 New York City's latest and greatest Brat is anything but spoiled. Located on Amsterdam Avenue and 106th street, the Brat Factory is a new kosher restaurant that is luring diners to West Harlem with its enticing array of tricked out meat dishes. Specializing in sausages and meat products, the menu includes far-out dishes like beer-battered onion rings and fried pickles. The Brat Factory also stocks basic dishes such as bratwurst and steak sandwiches.
The meats are not only delicious, they are also homemade. During a recent visit to the eatery, I indulged in an order of loaded fries (i.e., french fries topped with pulled brisket) and a chorizo sausage with onions and peppers, both of which tasted outstanding. Although the restaurant is similar to the Mocha Burger, with both restaurants serving burgers and various meat sandwiches, the environment is more relaxed and casual. It is a perfect place to eat with friends and enjoy a quick bite — and all for a fair price. For example, a steak sandwich costs $19 at Mocha Burger and $17 at the Brat Factory, plus the Brat's steak sandwich is noticeably bigger and loaded with significantly more meat. Another pro of the Brat Factory is that the menu has a variety of unusual items including corn dogs and their signature loaded fries, which I had the opportunity to try and will definitely head back west to indulge in again soon.
The only downside of the Brat Factory is that unlike Mocha Burger, which is centrally located on the Upper East Side, getting there is a fifteen to twenty minute drive from Ramaz, depending on the traffic. Nonetheless, Ramaz students seem to enjoy the Brat Factory even more than Mocha Burger. Sophomore Class President Aaron Sokol '21, "The Brat Factor serves a lot more unusual food than the standard deli menus. – the Jalapeno Dog and Pulled Brisket Spring rolls were unreal."  The Brat Factory is a perfect place for Ramaz students to enjoy some quality food and company. Try it out!
More from this Journalist