COVID-19 Attacks Ramaz: the Challenge to Create a New Normal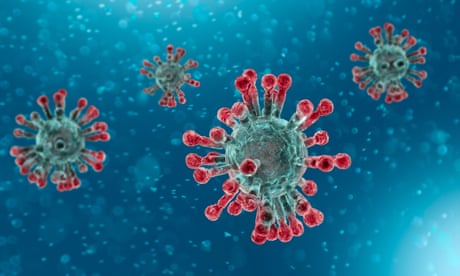 What happens when you wake up one morning to find yourself trapped in a horrific science fiction movie? What happens when, seemingly overnight, your biggest problem goes from your history test tomorrow to worrying whether walking outside will put your life in jeopardy? 
As COVID-19 took hold in New York City, the Ramaz school buildings officially closed on March 11. The next day, the Upper School opened up again… online. Students and teachers quickly adjusted to their new virtual classrooms. In less than a week, school was back in session, complete with assemblies, tests, Tefilla, and extracurricular clubs.
Coronavirus started in Fall 2019 in Wuhan, China, possibly from bats in a food market. Although little is known about the virus, it is related to the SARS Cough 2 Virus, an epidemic that was present 15 years ago. It is known to spread without direct contact and is very dangerous, especially for the elderly or those with compromised health. The virus rapidly spread around the world, and at the beginning of March, it reached the New York Jewish community. SAR was the first school to close after an SAR parent was infected and battled as one of the earliest cases of the virus. Because of the closely integrated populations between the SAR and Ramaz communities, fear spread into the Ramaz community. Some students had siblings in self-quarantine. Some families did not go to shul on Purim. Some high schoolers did not come to school on the Wednesday after Purim, as they were afraid to catch the virus. 
The question of when to close school was challenging. Head of School Mr. Jonathan Cannon consulted with many other Jewish high schools about their plans. The schools fell into two categories: those with actual cases of coronavirus and those that were simply monitoring the situation. The original guidelines from the New York City and New York State Health Departments were that schools with definite cases of coronavirus needed to close. As the NYS Health Department learned about the depth of the interconnectedness of the Jewish communities, they advised Ramaz to close even though there were no known cases of corona within Ramaz. A few days later, all New York public schools closed.
With regard to the new virtual approach to school, Mr. Cannon said, "Overall, there is the same concern for all Ramaz students. We want to make sure that everyone puts their health first and then focuses on existing within this new world." In the Lower School, there must be a focus on daily practice and routine. "This new reality is even more confusing for them," explained Mr. Cannon. The Middle School follows the same basic theory, but Mr. Cannon feels these students need a variety of opportunities, especially the eighth graders whose Israel trip was canceled. The Upper School has always maintained a rigorous program, but at this time, Mr. Cannon acknowledges the school cannot pretend that what is happening is normal. "This is an uncharted time," he said.
According to Mr. Cannon, one of the hardest decisions he made was "the decision of bringing in distance learning." He explained, "We knew it was asking a lot from the faculty and would add a lot of stress." Many Ramaz teachers have young children at home and other responsibilities, aside from online teaching. As an independent school, Ramaz does not have a minimum number of days requirement like the public schools. Teachers could have given independent work instead of class time. Rabbi Stochel and Mr. Cannon discussed distance learning with many other schools. They swapped ideas with both Jewish and non-Jewish schools from around the continent, including schools in California, Florida, and Canada. Additionally, the New York State Association of Independent Schools (NYSAIS), in which Ramaz participates, is holding ongoing conferences to keep schools updated with new ideas and policies. 
By the beginning of March, Ramaz initiated preparations. Ms. Krupka organized a schedule with three to five hours of classes daily. "The goal was to make the day manageable, yet not overreach. We wanted a balance between normalcy and sensitivity," she said. The school wanted to give students the chance to sleep in, but also be able to learn productively. 
Originally, the school planned to use Schoology conferencing, but wary that the platform would not meet all of their needs, the administration switched to Zoom, a remote video conferencing service. Rabbi Stochel said, "Zoom has a higher capacity and more functions." 
After SAR closed, Ramaz teachers participated in a Zoom-training session to get familiar with the online interface. According to Rabbi Stavsky, "There were a number of opportunities provided to the faculty to learn and experiment with the technology." Once online classes started, the teachers continued to hold faculty meetings and department meetings. Outside of official meetings, many teachers turned to their peers for help with this new way of teaching. Ms. Senders said, "In addition to talking with the Tanach Department, I am learning [about Zoom and distance learning] from my colleagues at other schools." 
As with any new experience, Ms. Krupka said, "There is a learning curve with online classes." Ramping up online teaching has offered challenges. During the first week, "intruders" from other schools entered Ramaz Zoom classes, made inappropriate comments, and distracted the class. The administration quickly ended this "outrageous behavior" by creating waiting rooms. Teachers can now see who requests to join the class and manually add their students only.
Even students, who already spent hours each night on FaceTime with one another, have had an adjustment to online classes. According to Aaron Green '23, "Online learning is challenging, especially during that first week. It was hard to adjust." Students do appreciate the hard work of their teachers. Elizabeth Newman-Corre '20 said, "My teachers are handling the situation really well; they are understanding and helpful." 
A challenge felt by both students and teachers is a lack of engagement. Students find it awkward to speak up online. Samantha Sinensky '21 said, "It's not as comfortable to ask questions online like it is in person." Jessica Moskowitz '22 agreed. She added, "It's much easier to get distracted at home, so it's harder to engage in the classroom." Ms. Senders explained her experience with a lack of student participation, "Usually when I walk into a classroom, I have the flexibility of feeding off the energy of the room. It is much easier to engage students in person than it is online." Rabbi Stochel added, "Interpersonal contact that a teacher can establish can be lost online. For example, it is hard for teachers to circulate, check-in with students, and respond to questions."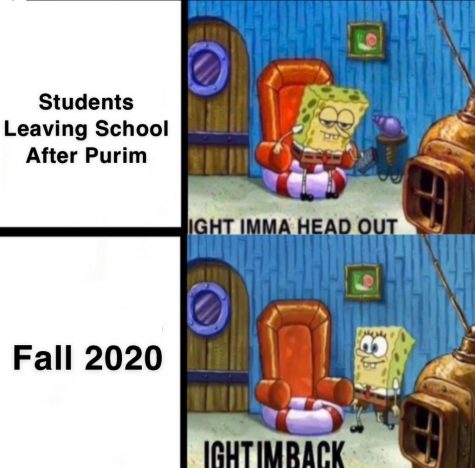 Teachers are working to overcome this challenge. Dr. Herzog explained her solution, "One way I am trying to overcome the difficulty [of limited student engagement] is by using a number of teaching methods in each lesson. I will try to give students some visual material, some auditory (listening and watching a video clip) and some writing (typing answers on shared Google docs) so that all types of learners will feel engaged." 
Students have differing views about the hour-long class format. For some students, it is difficult to concentrate. Daniella Norman '21 said, "An hour is really a long time, and it's hard to stay focused and take notes." Other students, however, prefer the hour-long classes because it means taking only four classes a day. Ms. Krupka explained that an hour gives time for everyone to get online and set up. It gives wiggle room for technical difficulties, like poor connections, throughout the class. In addition, the added length gives teachers a chance to try different techniques of engaging students, like using breakout rooms. 
Ms. Krupka sent out a student survey after one week of Zoom classes to get student's feedback. She wants to work with students in order to find the best solutions, given the uncomfortable circumstances.
Ramaz's discovery of Zoom will have lasting implications beyond the coronavirus quarantine. According to Ms. Krupka, snow days will forever be changed. She said, "We plan to use Zoom again in the future." Rabbi Stavsky agreed, saying, "It opens up great opportunities for learning during snow days, at least as an option for groups of students who want to spend some time learning together."
Ramaz, unlike many other tri-state area schools, has decided to maintain its rigorous academic program, despite the rapidly-spreading virus. Ramaz has continued to test students either online or by having students submit pictures of handwritten tests. Some students appreciate that Ramaz continues to keep their intense curriculum. Moskowitz said, "I think that having tests are good because it forces me to take notes and pay attention in class." At the same time, other students are upset that Ramaz has not slowed the pace of classes. One junior said, "This is not a snow day where that one day we can't get into the building. The world is facing a crisis, and Ramaz needs to understand that." In response to similar criticism, Rabbi Stochel said, "Assessments are not just about getting a grade on your report card. It is also about showing mastery of knowledge. We do not see it as a penalty, rather as a natural way of showing mastery of knowledge and growth." As of now, Ramaz has also decided not to grade this semester using a pass/fail system. Rabbi Stochel explained, "Ramaz is serious about learning, and our students take pride in their grades. We want the grades to reflect their hard work."
The Ramaz administration is also doing its best to continue its vibrant student life. Within two weeks of online school, Ramaz has held two full-school assemblies, as well as advisory meetings. Teachers have utilized Schoology to post friendly messages, funny videos of the Ramaz faculty, crossword puzzles, and exercise classes. 
The Ramaz administration does recognize that the current situation adds a lot of stress for students. Rabbi Slomnicki said, "Usually, Ramaz students face a lot of pressure. But, now students do not know how to channel these pressures because there are a lot of unknowns. We do not yet know the answers to most of their questions, which can lead to more stress." Students also miss seeing their friends every day. Being isolated at home adds more stress to an already anxious situation.
In order to relieve some of this stress, Mr. Cannon held a community meeting called "Navigating the Uncertainty of Coronavirus." There were three components of the meeting: Mr. Cannon spoke about Ramaz's future plans; Dr. Phil Wilner '75, Ramaz Chairman of the Board and Senior Vice President and Chief Operating Officer for New York-Presbyterian Westchester Behavioral Health Center, spoke about the anxiety and stress that this new pandemic brings; Dr. John Moore, a Professor of Microbiology and Immunology, spoke about the importance of social distancing, quarantining, and flattening the curve. Mr. Cannon decided to hold the meeting as part of ongoing communication with the Ramaz community. "It is important for people to see us virtually and know that we are working hard," said Mr. Cannon. "We also want to spread the message that social distancing is critical. We did not just close the school to stop spreading coronavirus in the building, rather we all need to participate to stop the spread of coronavirus in the community."
In conclusion, Mr. Cannon advises students not to catastrophize, but at the same time, he said, "It is really important to follow the guidance of medical experts in order to protect the most vulnerable in our community."
The world's current situation is new and terrifying. The Ramaz community is working together to create a new normal for everyone. 
Our prayers for a speedy recovery are with anyone who is suffering during this time.
More from this Journalist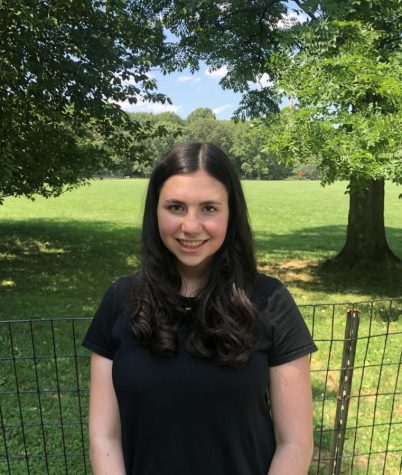 Rebecca Massel '21, Editor-in-Chief
Rebecca Massel has been a journalist since lower school and is excited to be an editor-in-chief of The Rampage. She has been an active writer for the paper...