College in the Times of Corona
Applying to college is uncharted territory for every high schooler. But for this year's juniors and seniors, the college process has become like traveling through an unmapped sea. As COVID-19 has spread throughout the country, colleges have closed their doors and begun to change their policies. High school seniors can no longer visit college campuses, and their AP exams have been shortened to accommodate for online classes. Juniors are facing a different college acceptance experience than any year in the past. Since the future of this semester is unknown, colleges are currently in the process of planning a new admissions process.
Seniors are definitely feeling the repercussions of colleges closing. Although regular decision acceptances came out on time, seniors still have to make decisions about which school they will attend. This decision is usually made by visiting the campuses with admitted students programs. Ms. Davis, Associate Director of College Guidance, said, "These are often key programs that allow students to meet other admitted students and current students, see dorm rooms, and generally get a more in-depth view of the program than the typical college visit." Colleges are offering virtual tours online, though they are not the same as seeing a campus in person. Seniors are feeling the impact of the lack of tours. Sophia Kremer '20 said, "I was planning on visiting schools in the spring and over Pesach break, but now it is going to be much harder to pick a college."
The exams for Advanced Placement (AP) classes have also taken a major turn from what has been done in the past. The College Board sent a survey asking for student opinions on how to handle the AP exams during the pandemic. In response to the survey, the College Board changed AP exams to be 45-minute online tests. Also, a lot of material was taken off the exams. Elizabeth Newman-Corre '20 said, "I appreciate that the College Board is trying to help out, given the circumstances." However, other students are wary of the new testing policy. Kremer explained, "I am nervous because the test is shorter, so each question will be worth more points. It will be harder to do well."
Throughout this year, juniors have rigorously been preparing for their standardized tests, the SAT or ACT exams. Due to the spread of the coronavirus, the March SAT and April ACT were canceled. Students hope to be able to take their tests in the summer or fall, before early admission applications are due. College advisors usually advise students not to take the SAT or ACT in June because they conflict with finals. Given the circumstance, however, the college advisors sent out an email to juniors recommending that students take the test in June, despite finals. Ramaz has been quick to try and reduce stress by canceling the junior final the Monday after the June ACT. According to Ms. Krupka, "In the past, we have not had a large section of the junior grade taking the ACT in the middle of finals, so this year, we thought it was necessary to change the finals schedule." However, juniors are still concerned that the June ACT and SAT may not even be available.
As a result of the missed standardized tests and confusion about the current online school, the college admissions process may look different for juniors than in years past. Many colleges already told the Ramaz College Guidance office that they will not request SAT subject tests or will not penalize students for not submitting them. Additionally, there may be changes to the SAT or ACT requirements. As of fall 2019, some schools were considered "test-optional," meaning they do not require a student to submit a SAT or ACT. These include George Washington, Brandeis, the University of Chicago, and Brown. The College Office predicts that because of the pandemic, more schools will become test-optional. Ms. Davis said, "Choosing to go test-optional largely depends on two things: whether the June tests are offered and/or whether a few brave trend-setting colleges go test-optional first as trend setters." 
During this unprecedented time, Ramaz teachers are still deciding how to grade their students. Some students and parents have suggested a pass/fail grading system for this semester because they fear that students might receive lower grades, bringing down their entire GPA. However, others are nervous about how colleges will view a pass/fail system. Michal Seinfeld '21 said, "I think that Ramaz students put in a lot of work, so to just be given a pass means students will put in less effort. There is something rewarding about getting a letter grade. But, at the same time, [a pass/fail system] does take into account the circumstances." Isaac Silverman '21 feels that a pass/fail system would not be best for students. He said, "I don't support the system for two reasons. First, I would like all the work I put into a class to be seen on a higher level than someone who put little effort in and barely passed. Second, if Ramaz is one of the only schools that continues actual grades, then we would look better to colleges than just a bunch of P's on report cards." According to Ms. Davis, "As a general rule, colleges respect the high schools' policies and are interested in students succeeding in the academic environment their schools provide." Colleges have shared with high schools that if this semester is graded pass/fail, they will more heavily consider junior and senior first semester grades. Colleges will also look into if schools offered catch-up classes, summer classes, or a more intense senior curriculum. Ms. Davis said, "To the extent we can continue to offer a rigorous curriculum and assessments, I think our students would benefit from letter grades this semester. Ramaz moved swiftly and successfully to institute distance learning and can still assign letter grades." Ramaz teachers have been discussing alternatives to classic tests, so Ms. Davis feels that they are well equipped to grade students even without tests. The Ramaz College Guidance guarantees students that college will be made aware that Ramaz continued online at the same academic level for which Ramaz is known. Ms. Krupka said, "We assure students that we will describe to colleges that during the corona pandemic, the school kept up its rigorous academics."
Aside from testing and GPAs, many colleges are known to choose students who are interested in the school. Colleges can tell who is genuinely interested in a school mainly using two techniques. First, in-person interactions with admissions officers at college nights or college fairs are crucial. Second, colleges track demonstrated interest by recording students who visited the college for a campus tour or information session. Now, however, students cannot go to visit campuses, and the Ramaz College Night is rescheduled, so students cannot meet college representatives. Colleges can only track demonstrated interest with online usage of the school's website and Scoir page. 
Ramaz plans to reschedule College Night for online in mid-May. The College Office is hopeful that students can interact with the schools through this format. Additionally, Ramaz plans to host college representatives in the fall. One junior boy said, "I have already visited some colleges, but I was hoping to learn about even more schools on college night. Hopefully, I can have a similar experience online."
A major part of the admissions process is meetings with the Ramaz college advisors, both with other advisees and with parents. According to the college office, they plan to host these meetings via Zoom. Advisors want to be conscious of the amount of time students spend online each day and that college's policies may change as the COVID-19 issue becomes more intense. In addition to junior meetings, each college advisor hosts a private meeting with each advisee and their families. The college office does not usually meet with families until the student takes at least one SAT/ACT. In the current situation, they will begin to host these meetings in May, probably via Zoom, for students who already took at least one test. For students whose first test will be in June, their meetings will be in person or via zoom in July, August, or early September. 
The college office advises students to be productive with their time away from school. In an email to juniors, Ms. Messinger wrote, "Although many traditional extracurriculars have been postponed for the time being, that doesn't mean there aren't more creative ways for you to keep yourself busy and boost your college application." She suggested students spend time joining a club, starting an independent project, or giving back to their communities. Ms. Davis added that there might be new supplementary questions about how juniors used their free time. But, she suggests that students do not write their common application about the corona epidemic "unless you are doing something extraordinary with this time or have a really unique take, you are likely to be one of thousands of students writing similarly about how difficult this time was."
More from this Journalist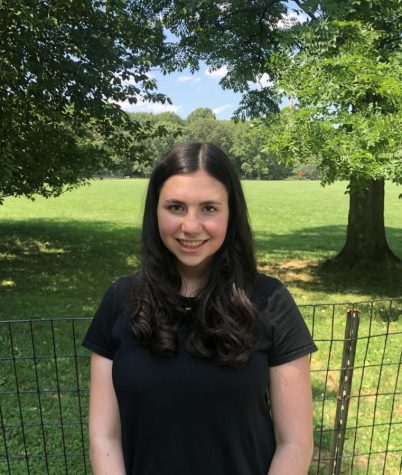 Rebecca Massel '21, Editor-in-Chief
Rebecca Massel has been a journalist since lower school and is excited to be an editor-in-chief of The Rampage. She has been an active writer for the paper...