Food for the Soul: Persian Culture Club Cooks Up Chesed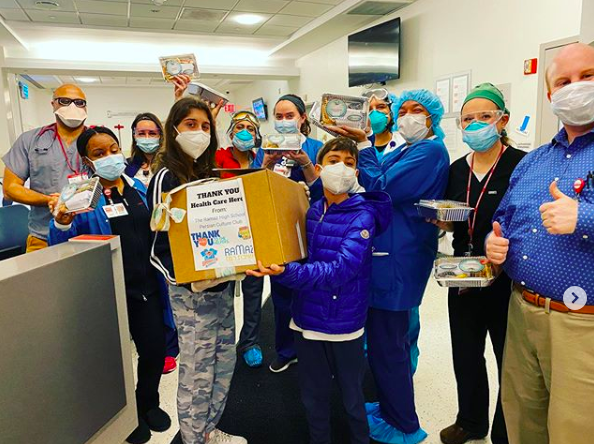 Amidst the COVID-19 chaos and social distancing, a high school student was spotted making "food runs" and delivering food packages to healthcare workers in hospitals throughout New York City. This chesed initiative was spearheaded by Ramaz Persian Culture Club President, Gabby Ostad '21. Ostad channeled her love of cooking and Persian pride into this latest project as a way to give back to the healthcare heroes fighting the coronavirus. 
The Persian Culture Club joined the club scene earlier this academic year, uniting students of varying Ashkenazi and Sephardic backgrounds and introducing them to Persian cuisine, language, and fashion. Each meeting is complete with unique Persian delicacies, varying from desserts to kebab wraps. "Food is a very central part of Persian culture, and it is really cool that our club was able to unite people over food," said Ostad. Her personal favorite is tachin (she was snacking on this during our interview), a rice dish layered with dried cranberries, chicken, and saffron with a crispy hard-rice top. It was this passion for flavor that sparked the idea for the Persian Culture Club to create a cookbook, even prior to COVID-19, consisting of various dishes from different towns throughout Iran. Unlike Mediterranean food, Persian cuisine is very rice-based. The cookbook contains six different rice dishes; a rainbow of white, green, red, yellow, and cherry. There is also generous use of herbs and vegetables, both in dishes and as a palette cleanser. "Based on where your family is from in the country, there are different versions of the same recipe. We thought it would be fun to compare and contrast these dishes," said Ostad. This truly was a collaborative project, with recipes contributed by club members and the Persian Jewish communities of New York and California. Persians shared their traditional family favorites from generations ago. Ella Rabani '21 said that she "submitted my favorite Persian stew called gormeh sabzi. It's a staple on my Shabbat table every week! I love coming home to the smell of it cooking on Friday afternoons, and to know that others will enjoy the same flavors as I do makes me really excited." 
Once COVID-19 struck, the club met virtually to discuss the possibility of selling the cookbooks for $10 each, with all proceeds directed towards purchasing kosher food to be given to healthcare workers. A Taste of Iran debuted shortly before Pesach, with easy-to-follow directions and step-by-step photos. It even includes two recipes for charoset, called halegh in Persian. A GoFundMe account was created for donations, and the cookbook is emailed in PDF format and sent upon purchase. "Our goal was to connect people through food. People from all different backgrounds, inside and outside of Ramaz, were interested in learning about Persian cuisine," said Ostad. This project is especially timely, as we are all at home in isolation, and people are able to cook without leaving their house. "Experimenting in the kitchen is something to keep people busy and take their mind off the stress," said Ostad.  
This endeavor was a huge success, and the club ultimately raised over $4500. Ostad filled her car to capacity with food boxes, each containing a kosher lunch of individually-packaged sandwiches and side dishes. The food was delivered to healthcare workers at Mount Sinai Hospital, Lenox Hill Hospital Northwell Health, New York-Presbyterian Weill Cornell Medical Center, and the makeshift hospital in Central Park, Samaritan's Purse. Ostad went to emergency rooms to deliver the food packages and also gave to EMTs who were on the go in ambulances. So far, 330 meals have been donated. Healthcare workers are very appreciative of the club's efforts. Fatima Aziz, a nurse at Lenox Hill Hospital Northwell Health, who witnessed Ostad deliver the meals said, "It is very meaningful to see kids and teenagers, especially because it can be scary to walk into a hospital now. The day that she [Ostad] delivered the food was my first day back at work in three weeks since I contracted the virus myself in the hospital, and seeing her really brightened my day. It is an amazing feeling to know that you are appreciated for your work, especially because we are risking our lives. She [Ostad] could have had a delivery man or another adult go into the hospital to bring the food, but she delivered it personally, and it was really sweet." Ostad said, "I've connected with Persian workers in the hospitals, who are excited to see that we are the Persian Culture Club. I love forming connections with people who are putting their lives on the line to help those affected by COVID-19." Many people would be reluctant and fearful to enter hospitals at this time, the heart of the coronavirus crisis, yet Ostad said, "These healthcare workers are making the ultimate sacrifice, and when you have the desire to help the community, delivering food packages does not feel like a burden. It is something I want to do. My small act of delivering food for five minutes and thanking them for their efforts to suppress the virus is so minimal as compared to the work." 
Initially, the Persian Culture Club shut down their GoFundMe to focus on delivering food. However, after this initial accomplishment, they opened a new GoFundMe to release the cookbook again. They are also considering creating a second edition. Interest in the cookbook has grown, especially because of the admirable chesed component. Ostad said, "Coming from a private Jewish day school, I think it is important to remember that we have a responsibility to the Jewish people, but it extends beyond this.  COVID-19, in particular, made me realize that. We need to appreciate the work that humans are doing for one another." 
This project is not over, and more food boxes will be delivered to health workers around New York City. Ostad said, "When I enter a hospital and the healthcare workers see that I am delivering food, their faces light up, and we are welcomed with open arms. This is what makes it worth it for me."