How Does RamZoom Compare?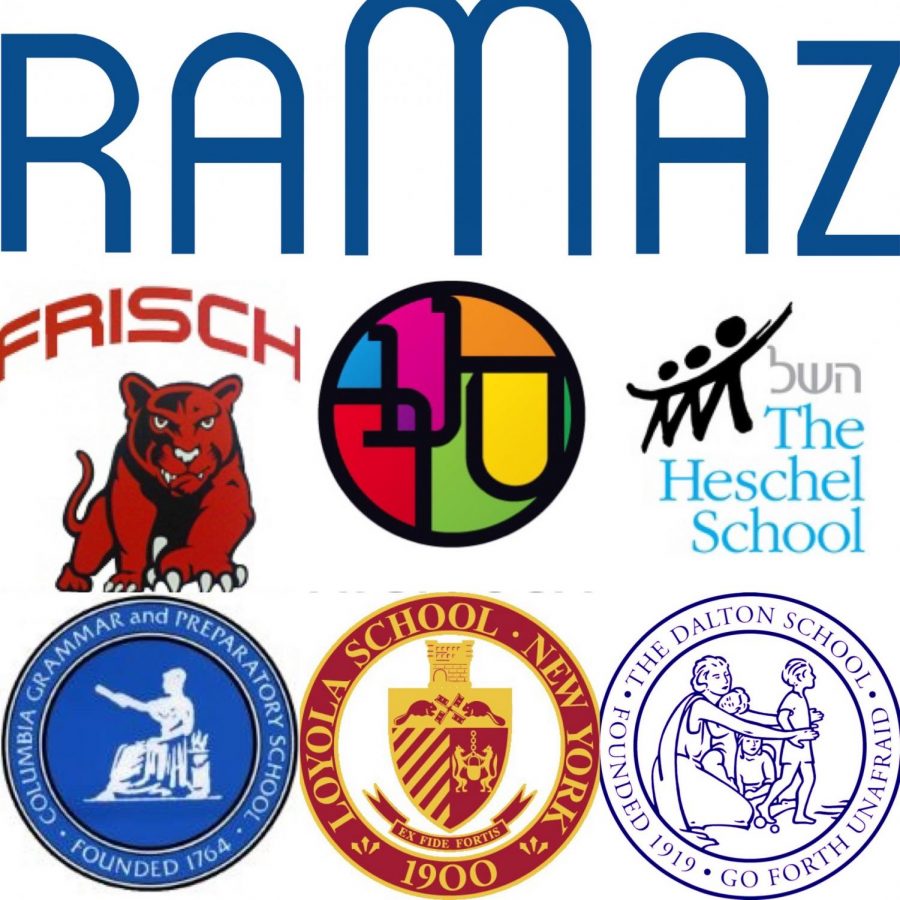 With COVID-19 sweeping through the country, Ramaz students are missing out on many important parts of the Ramaz experience. While the situation isolates students from one another in some ways, it brings them closer to their peers at other schools. To get a sense of how Ramaz online learning compares with other academic institutions, The Rampage interviewed students and faculty at six different schools, including Jewish day schools in the tri-state area and other independent Upper East Side schools. 
Since the beginning of distance learning, Head of School Mr. Jonathan Cannon and Head of Upper School Rabbi Shlomo Stochel exchanged suggestions and tips with UES schools, local Jewish schools like SAR and Heschel, and schools farther away in California, Florida, and Canada. The administrators also participated in conferences led by the New York State Association of Independent Schools (NYSAIS), of which Ramaz is a member. 
One of the first schools in the country to be affected by the Coronavirus was SAR in Riverdale. There, the news that school was closing was a total shock to administrators, students, and faculty. Daniel North, a junior at SAR, explained that on Tuesday, March 3, he woke up and got ready for a regular day of school. But as he was walking out the door, he received an email that SAR has a "suspected case of coronavirus in [their] community," and would, therefore, be closed "for precautionary measures." According to Ms. Adina Shoulson, Chair of SAR's History Department, the SAR Tech Department had anticipated distance learning early on and even ordered headsets for all teachers before the pandemic spread to the school. A day after closing its doors, SAR High School opened on Zoom.
Many other schools quickly followed suit. The Frisch School in New Jersey closed on Friday, March 6, officially quarantining their students less than a week later. The Heschel School first closed its doors on Monday, March 9, and remained closed through Purim, while a member of the community was tested for COVID-19. Heschel reopened on March 11, but a day later, they officially closed and transitioned to online classes. According to Sabrina Zbar, a Heschel junior, "Heschel was amazing about getting us on Zoom quickly and efficiently; there were (and are) surprisingly few technical difficulties."
At some other UES schools, in-person classes conveniently ended just as spring break was beginning. While Dalton and Columbia Grammar & Preparatory experienced their first days of online school when they came back from spring break, Loyola had a two-day test run of Zoom before their break. Emma Veron, a senior at Columbia Prep and the editor-in-chief of The Columbia Blue, remarked, "The time off was honestly very convenient because it gave the administration, teachers, and tech department time to plan."
Once classes were up and running for each of the schools interviewed, the job of scheduling took center stage for the administration. Ramaz opted for hour-long classes which run from 9:45 a.m. to 3:45 p.m.. This includes four periods each day with an hour-and-a-half lunch period. Ms. Krupka explained that a one-hour class is more productive than a shorter session, especially because each subject is only meeting twice a week. The added length allows time for technical difficulties and for teachers to try new Zoom techniques, like breakout rooms or sharing videos. 
Like Ramaz, most other schools have reduced the length of their school day now that they are on Zoom. However, the length of classes and the number of subjects taught each day varies with each school. At Heschel and Columbia Prep, there are four or five 45-minute classes per day. At Frisch and Dalton, each class lasts a half an hour. Frisch has seven classes each day, but since the classes are so short, and it is hard to keep up with the material, they have added an extra 45-minute math class once a week. Dalton schedules each subject twice a week, just as Ramaz does. According to Kathryn Wang, Dalton senior and editor-in-chief of The Daltonian, "Dalton initially started with shorter classes to limit the amount of screen time for students, but as Student Body President, I have heard that although the classes are engaging, teachers are having difficulty fitting in all the material during the short 30-minute classes."
Because of the challenges presented by online classes, all schools have dramatically altered their workload and grading systems. Ramaz has tried to maintain its high level of learning while being understanding of students' needs during this unprecedented time. The school determined that each subject will be graded on an appropriate rubric for that discipline. Ramaz is continuing to administer tests on the honor system, but in some cases, is implementing more lenient policies such as open-note exams. Rabbi Stochel explained, "Assessments are not just about getting a grade on your report card. It is also about showing mastery of knowledge. We do not see it as a penalty, rather as a natural way of showing growth."
At Dalton, the 30-minute classes make it difficult to cover all the material, so teachers have been covering parts of the curriculum in the homework. Although there are official limits to the amount of work that can be assigned on any given night, students have been getting many papers and assignments.
SAR and Frisch have minimal homework each night, but long-term papers and assignments were not canceled. Neither school has virtual tests, so students are mainly graded on their participation. According to Frisch junior Rachel Susman, "Not having tests definitely takes the weight off my shoulders, and it is important to spend this time with family, but at the same time, I think that it is important to have some work. Frisch struck the right balance." Ms. Shoulson from SAR agreed, saying, "I am proud of SAR for taking the pressure off students and not continuing business as usual."
At SAR and Frisch, participation is key; both schools will be grading their students mainly on participation. Frisch teachers have begun to cold call students so students feel forced to listen and participate. At SAR, teachers evaluate engagement based on whether students arrive punctually, show their face on camera, and ask and answer questions.
Dalton and Heschel both guaranteed students that if their grades for this semester are lower than in the past, their overall grades will not drop. For example, at Heschel, if a student has an A- average, and then she receives a B on her paper, it will not be factored into her grade. However, if said student received an A on a paper, that will boost her overall score. Heschel's grading system is also heavily based on participation. Dalton's policy is that after the third quarter ends, of which three weeks were online, a student's grade cannot drop. At Columbia Prep, students are being graded pass/fail this semester. Additionally, students will receive qualitative assessments, a paragraph from teachers describing each student's work in the online class.
Within the classes themselves, students and teachers at all schools are facing challenges. At SAR, Heschel, and Frisch, where participation is a large factor in students' grades, they are engaged on Zoom, making comments and asking questions. North said that at SAR, students are still trying to understand the material, even without tests. Teachers at all schools are trying their best to keep classes engaging by incorporating different tools and mediums into their lessons, like splitting a class into smaller groups to work on an assignment. Alex DelFranco, a senior at Loyola and editor-in-chief of The Loyola Blazer, is a teaching assistant in physics. He said, "I know [the physics teacher I work with] spent a lot of time redesigning the classes to keep the students involved and on pace." Ms. Shoulson commented, "It is a challenge to get a conversation going on Zoom, so I have focused more on engaging students by using tools like breakout rooms and videos."
High school is not only about academic classes. School programming, assemblies, advisories, and clubs are critical to a successful experience. Although some major high school events like graduation have had to be rescheduled due to the corona pandemic, all of the schools have held assemblies to increase the feeling of unity in their respective communities. At Ramaz, every day offers something different for the students. Mondays and Fridays include full-school assemblies. On Mondays, students also meet with their advisers and have a chance to discuss their reflections on the current situation. Tuesdays offer lessons in entertaining activities such as barbequing or bingo. Wednesdays bring a chance to hear special speakers, like a Ramaz alum who is now a doctor on the COVID-19 floor at Mount Sinai. After-school clubs and post-lunch programming are offered almost every day. Interestingly, Zoom has created new opportunities for students. Clubs can now host speakers from across the country. The Rampage held its first-ever press conference with the administration via Zoom. Even the dance team and choir are meeting on Zoom and recording their performances. 
Many other schools have similar programs. At Columbia Prep, 2:30 to 3:15 is designated as school activity time. During this period, students can hear from guest speakers, participate in mindfulness classes, play chess, or take a yoga class. The Columbia Prep student government held its annual Coffee House via Zoom. Students and faculty sang songs, performed dance routines, and read original poems. Veron exclaimed, "It was a huge success." Frisch holds a full school meeting every morning with their principal. Recently, the school added a period of advisory to the schedule, and the Grade Deans reached out to each student at the beginning of the quarantine. Susman commented, "It is really nice to have time to talk to our friends and reflect on our current experiences." Heschel also has a number of school assemblies, grade meetings, and advisory. Zbar reflected, "The assemblies are nice, though they make us sad that we can't all be together." SAR's programming is similar. They have a few full-school and grade-wide meetings. Additionally, once a week, there is a double lunch period intended for clubs to meet. There are also non-academic lessons taught by teachers, like cooking classes or fire-building classes. SAR also holds a nightly shiur for students to explore their Judaism in a more relaxed environment than regular classes.
Dalton is also supporting their students through a half-hour advisory meeting, known as House, every morning, and club meeting times. Students can sign up to host club meetings between 12:00 PM and 1:00 PM and from 3:30 PM to 4:30 PM. This time is especially beneficial to students who want to explore new clubs during this time in quarantine. In addition, Dalton students have no classes on Fridays. Instead, students can participate in assemblies and musical performances, and they have advisory periods and opportunities to hear from guest speakers. Wang said, "House and clubs are a major social space for students, especially on Zoom." Similarly, Loyola implemented community days, where students can participate in activities together. Loyola students are trying to keep up with virtual club meetings. For example, The Blazer is working on a newsletter or podcast to keep students in the loop even from home, and sports teams are meeting online to catch up with one another.
Distance learning is a new challenge for schools everywhere. Each school is trying slightly different techniques, all with the same goal of maintaining learning while also creating a sense of normalcy and calm for its students. One thing that all students agreed on is the herculean efforts put forth by their teachers.